Published on

Updated on 
Best topo map apps for Android and iOS - 2023
Authors
Topo maps have high information value. Not only buildings, roads, and other objects are available on topographic maps, but also the boundaries of regions, countries, and states.
There are a lot of useful map apps for sport amateurs, travelers and hikers. Today we're going to take a close look at a few topographic map apps you're likely to appreciate while hiking or trekking.
Table of Contents
There are many apps available for hikers and outdoor enthusiasts that provide detailed topographic maps. These apps offer features such as route planning, offline maps, GPS tracking, tracking calories spent while hiking, recording routes on a map, joining a community of hikers to share your routes with them.
Best Topo Apps (Android / iOS) - 2023
Best hiking App with topographical maps: AllTrails
Best app for Hiking on Android: Gaia GPS
Best free app for hiking: Map My Hike.
The topo app with unique features: PeakVisor
Best navigation app for hikers and bikers: ViewRanger
Topo GPS is highly recommended for those looking for an alternative to Viewranger due to its ease of use and reasonable price.
Gaia GPS
App rating: 🐱🐱🐱🐱🐱 4.5 out of 5
Price: Free / €2.89 - €74.99 per item (pro)
Developer: TrailBehind Inc.
Gaia GPS is a mobile app which will be useful for hunters, athletes, hikers and adventurous travelers. It allows using detailed topographic maps, arrange routes and sync them with desktop and mobile devices. Terrain map are available both for cities and their neighborhoods, national parks, mountain and cross-country terrain.
You can download topo maps for offline use, connect directly to the app map database online or print any map. In addition to map objects Gaia GPS displays such data as: distance and altitude. Information on weather conditions will also be useful since you can make adjustments to the existing route or change your plans.
In fact, there are a lot of maps, you can see them on the official website under Maps for Any Adventure https://www.gaiagps.com/maps/topo/. Just filter the maps by type (Topo). You can also choose the units of measurement - meters, feet. The topo maps are described: some are suitable for Winter or Summer activities, and some - for hiking and hiking in general. Some topographic maps are of historical value: you can use them to find out how the area looked, say, 100 years ago.
Thanks to Gaia GPS, you can not only make a plan, but also save a trail with the smallest details on terrain maps, add notes and share it with other users.
Most of Gaia GPS GPS features are for free. Premium users have access to topographical maps from various sources (NatGeo Trails, Swiss Topo, France IGN and etc.). The price of the subscription is $39.99.
Cons:
outdated documentation
Android-centric versions not yet available
Pros:
ideal navigation app for outdoor enthusiasts
plenty of maps
support team available if needed
data safety
popular and affordable choice for outdoor exploration
Topo GPS
App rating: 🐱🐱🐱🐱 4.1 out of 5
Price: Free / €0.99 - €49.99 per item (pro)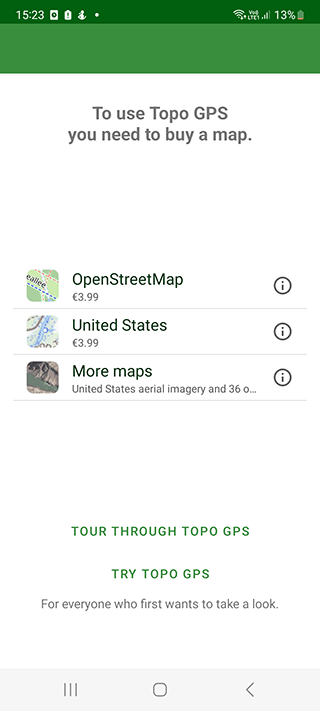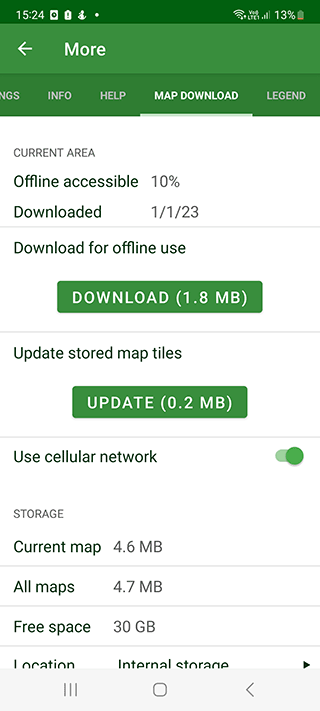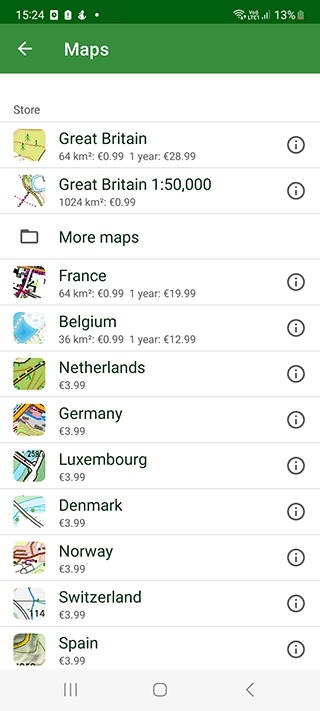 TOPO GPS is an app available on Google Play with in-app purchases, 4.1 star ratings, 687 reviews and 100K+ downloads.
It turns your Android device into a full-fledged navigator with autonomous functions and support for topographic maps. However, it should be noted that all maps are paid. They are available for countries such as the USA, New Zealand, Australia, Canada and most European countries.
It has a variety of features for recording, planning, generating, editing and searching routes with filters which can be organized into folders and imported/exported in gpx/kml/kmz format.
A collection of detailed and high-precision topographic maps for hunters, athletes and those who love hiking. The maps will help you with building the right route to your destination. Topo GPS is also able to save trails you've passed and it gathers statistics on your achievements.
It provides users with a simple yet elegant terrain map selection which is especially accurate and precise for Germany with the best topo maps and Switzerland has a free state-founded app that is even better.
Pros:
aerial imagery for a few countries
it works great offline
conserves battery life while allowing users to navigate with peace of mind
map tiles of various sizes
free SIM access to OS MasterMap level without footpaths included
Cons:
lack of link to the coordinate system used by paper topo maps
grid overlays that don't match the original style
it lacks the detail of OS MasterMap
PeakVisor
App rating: 🐱🐱🐱🐱 4.4 out of 5
Price: Free / €36.99 - €79.99 per item (pro)
Developer: Routes Software SRL
PeakVisor is a great iPhone / Android app for hiking in the mountains. The guide contains a database of elevations, mountains, and hiking trails. All the information is available in the form of topographical maps and images, thanks to which you can find out the height of this or that point, the mountain.
You can load an image and PeakVisor will find the mountain in its own database and give you all the information you need. The guide contains about 1 million of mountain peaks.
Of additional tools, it is worth mentioning compass.
Topographical maps are available offline as a GPX file. They do not require a mobile network connection. Some of these features are only available in the pro version of the application. Topographic 3D Maps are available for mountainous areas, gorges. Information about the surrounding infrastructure (parking areas, viewpoints, etc.) is available for tourists.
Cons:
force closing
glitches with the compass feature not matching up with mountains easily
Pros:
worldwide peak bagging challenge
detailed topo maps of trails, mountains, and peaks
Map My Hike GPS Hiking
App rating: 🐱🐱🐱🐱 4.4 out of 5
Developer: MapMyFitness, Inc.
Fitness app Map My Hike GPS Hiking tracks the amount of calories spent while hiking (or doing any other sport activity) and records your route on a map.
Map My Hike supports a big number of gadgets: Google Fit, Android Wear, Garmin, etc. You can sync the app with Android Wear devices and thus track your progress.
Map My Hike free version shows ads. Premium version provides access to advanced statistics (for example, there is a feature of heart rate analysis). The pro version also allows you to create personal training plans: the app will adapt to the user's tasks and give advice. Live Tracking which tracks by GPS coordinates on a map is also worth mentioning.
The main disadvantage of Map My Hike is the lack of detailed terrain maps which makes it difficult to use the app for navigation. Primarily, the app will be useful for those who like to burn calories and stick to a diet.
ViewRanger: Trail Maps for Hiking
App rating: 🐱🐱🐱🐱 4.0 out of 5
ViewRanger is topo maps app for iPhone and Android. It grants access to hiking trails and topographic maps. In addition to the United States, the app also covers other countries popular for hiking such as Italy, Canada and France. In total, ViewRanger provides maps for 23 countries and about 200 thousand places for doing sport and traveling.
Its database contains terrain maps and satellite images of high accuracy. All trails can be printed and you can study them online. ViewRanger supports offline mode: offline maps can be easily downloaded in GPX format and you can use them with no mobile or internet connection.
To use topo maps, you need to select the Outdoor Active layer in the application. These maps are well scaled and have good detail, and their display is very realistic of the terrain. Accordingly, ViewRanger can be used for hiking or other activities.
It's convenient to use ViewRanger along with a smart watch (OS Wear): in order to track GPS coordinates in real time and record your hiking routes for later export.
The reviews on this app in the media are glowing and in Google Play it's marked as "Editors' Choice". However, the reviews of users are quite ambiguous: they complain that the majority of terrain maps are available only after paying for a ViewRanger subscription (which can be purchased via the online store on the app website).
Cons:
ViewRanger is being replaced by Outdoor Active which is not as good as ViewRanger
It requires use of a computer for making routes public or syncing
Screen resolution is poor when zoomed in & no ability to record track without phone connection
Pros:
topo maps are easy and intuitive enough to use.
offline maps (no need of internet/phone connection)
SkyRanger navigation
AllTrails
App rating: 🐱🐱🐱🐱🐱 4.7 out of 5
Price: Free / €0.75 - €139.99 per item (pro)
Developer: AllTrails, LLC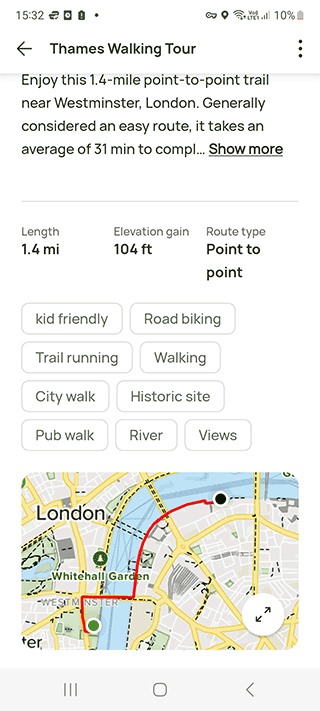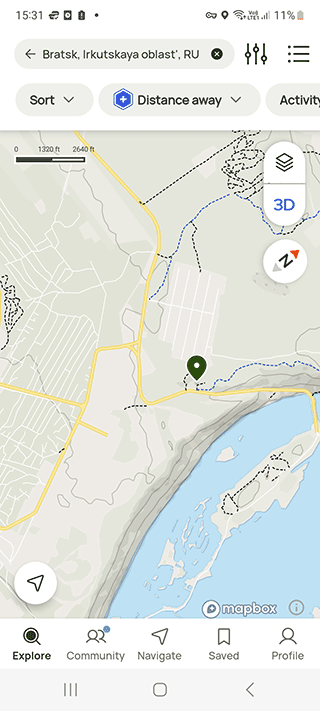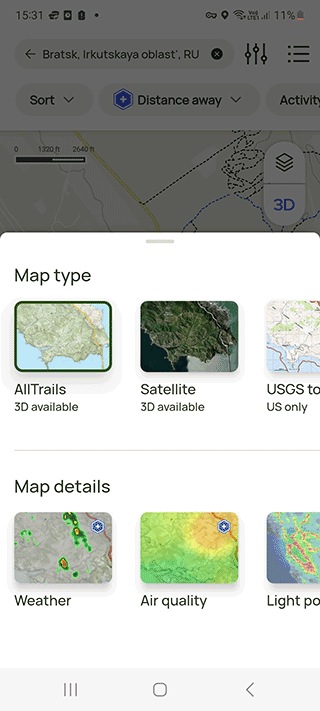 AllTrails is a mobile app for backpacking, traveling, hiking and other types of tourism. Suitable for mountain biking and off-road navigation. It is versatile, which is why it is used by millions of users around the world.
It offers a variety of features such as detailed reviews, custom route planning, GPS navigation, closest trails, live route planner details, offline maps, Lifeline for loved ones in the loop, topo maps and trail maps in 3D, wrong-turn alerts, satellite weather with real-time map details and more.
AllTrails allows users to view and store detailed topographic maps on their phones or tablets for a lower cost than regular GPS devices. It is ideal for outdoor activities such as walking, hiking, cycling, mountain biking, sailing, horse-riding, geocaching, scouting, trail running and other outdoor activities.
The routes for hiking are divided into different levels of difficulty, and other characteristics such as distance, rating, possibility of jogging, availability of landmarks are also available.
For better orientation, you can follow the tips and useful information available in the All Trails app. Users contribute to the development of the app, so their tips and comments are also helpful.
The app uses GPS, offline and online topographical maps (in 2D and 3D) for its operation. True, offline operation is only available in the Pro version of AllTrails, with costs starting at $30 per year.
Reviews from users have been mixed with some finding it useful while others having difficulty cancelling their subscription or experiencing battery drain or billing issues.
Despite some minor issues such as estimated time for hikes being lower than reality or difficulty locating phone's location, AllTrails is an affordable and reliable resource for hikers that is recommended frequently to others.
Pros:
affordable price
offline terrain maps
topo maps and trail maps in 3D
satellite weather with real-time map details
Cons:
difficulty cancelling subscription
estimated time for hikes being lower than reality or difficulty locating phone's location
PeakFinder AR
App rating: 🐱🐱🐱🐱🐱 4.5 out of 5
PeakFinder is a guide with peaks and mountains names. The app database includes more than 650 thousand objects, more or less known terrain hills.
You can access the app from anywhere, since it doesn't require internet connection in order to be able to fully operate. It works in the following way: you point the device camera at an object which leads to a 360° panorama with the name and geographical summary on the object to show up.
PeakFinder scans all objects in a 300 km radius. You can select a point via GPS, peak directory or by using topo maps. In order to fully operate the app requires a gyroscope built into your device, otherwise the camera mode won't be available. PeakFinder also uses compass and motion sensors for identifying objects and drawing panoramas.
PeakFinder runs under Android and iOS. The app costs $4.95.
Cons:
some problems with correct alignment with the compass
users report about crashes while using the app
issues with calibration
no iPhone version
Pros:
the app displays the names of various peaks, rivers and lakes in the area
vertical relief for a more realistic view
To sum up, PeakFinder is an excellent tool for photographers and hikers alike that allows users to plan their hikes on terrain maps according to sunrise/sunset and view the current moon phase.
Relive - Your Outdoor 3D Videos
App rating: 🐱🐱🐱🐱🐱 4.6 out of 5
Price: Free / €6.99 - €49.99 per item (pro)
This app is for hiking enthusiasts who enjoy sharing their achievements with friends. Relive allows you to create beautiful and presentable stories based on your journey.
Let's list some distinctive features of Relive. The app allows to:
Add photos and videos along the entire route;
Create video stories based on your journey;
Display treks in the form of beautiful and detailed 3D landscape;
Annotate sports achievements: max speed, highest point, distance, time etc.
Enabled GPS connection is required for the operation of the app. Relive works with a variety of services and software including Garmin, Endomondo, Polar, MapMyRide and MapMyHike.
There is also a premium version of the app with some additional appealing features:
Creating presentation videos in HD quality;
Importing and editing multiple stories;
Adding music and more photos (up to 50) to a video;
Storing data on athletic performance for over 12 hours.
Due to these features, the Relive app will be useful for athletes (runners, cyclists, snowboarders) and travelers who cover long distances and pass obstacles.
Australia Topo Maps
App rating: 🐱🐱🐱🐱 4.4 out of 5
Price: Free / 78,99 $ (AUD)
Developer: ATLOGIS Geoinformatics GmbH & Co. KG
Topographic maps will be useful for travelers in Australia. This type of map is necessary for hikers, tourists, motorcyclists and cyclists.
Australia Topo Maps is an excellent tool for navigation and mapping with a variety of maps and satellite imagery, the ability to cache maps and use them offline, and the trip master function for recording and saving data.
The main difference between Australia Topo Maps and Google Maps or Waze - availability of topographic maps for New South Wales, Northern Territory, Queensland, Tasmania and other regions. The set includes satellite images of Australian cities and provinces made in maximum quality in HD resolution. Thus, map users have the opportunity to consider the smallest details on the map with a bird's-eye view.
By the way, the app can work in offline mode, the Internet or Cell connection are not needed. However, offline maps are available only with the purchase of the full version of the app.
The subscription price of the PRO version varies: €12.99 - €89.99. Also in the Premium version of the app you can edit routes, import and export into a separate file. The free version of Australia Topo Maps displays advertising.
Main features of the app:
Australia Base Map - as part of the app you will find pre-installed base maps with cities and other localities
Export routes in GPX/KML/KMZ format
Search by Objects, Cities, Organization Names
Locations search by given coordinates
Support for Google, ESRI maps, various satellite services
Pros:
The app is great for exploring remote areas as it has a range of maps including topographical, satellite, and forestry roads
Cons:
no maps layers
not possible to show place or road/track names on Google Maps satellite
Despite these issues, Australia Topo Maps remains an excellent tool for navigation and mapping with its range of features and reasonable pricing for its pro version, making it a great choice for exploring remote areas in Australia or international travel.
Download: Android
Australian Geology Travel Maps
App rating: 🐱🐱🐱🐱 3.9 out of 5
Price: Free / €6.49 - €10.99
Developer: Trilobite Solutions
Australian Geology Travel Maps is a great tool for anyone looking to explore and understand the geology of Australia. It offers a wide range of features at an affordable price point and has received positive reviews from users.
It offers users a 1-week free trial before requiring an annual subscription of $11.99 and includes features such as detailed geology, symbolised resource map, aero-magnetics imagery, mining and lease boundaries, the ability to record trails and write notes on marked locations, import geojson data and mbtiles maps.
This app is a good alternative to popular navigators like maps.me or Waze. If you need detailed maps for hiking and walking in Australia, install Australian Geology Travel Maps. It may be just what you need to navigate.
No internet or mobile connection is required to display the maps - as long as you've previously downloaded the maps to your phone's cache through the settings. If you've activated GPS through settings, the app will mark your location, no matter what city in Australia you're in. Northern Territory, Queensland, South Australia, and other regions are supported as standalone maps.
Download Maps: iOS
Pros:
the subscription is worth every cent
customer service response time is excellent
Cons:
difficulty downloading large maps
A-GPS Tracker
An app for recording hiking routes and actually planning them. You can import a GPX file and follow already existing routes. A-GPS Tracker supports the following navigation systems: GPS, GLONASS, BeiDou and Galileo. Even a WiFi hotspot can act as a reference point.
Bergfex Tours & GPS Tracking
Another app for looking at hiking routes and not just that. It provides access to topographic maps and GPS tours. Via Bergfex Tours it's convenient to plan future trails and record current ones and import / export records in GPX format. In addition to this, the app can be synced with a smart watch.
The pro version of Bergfex Tours supports offline topo maps.
Topo and Hiking Apps: Q & A
Why do we need topo maps?
This is a special kind of maps with high detail and high information value. Not only buildings, roads, and natural features are available on topographic maps, but also the boundaries of regions, countries, and states.
Who uses topographic maps?
Fishermen, hunters, surveyors, professional sportsmen, miners, military, hikers, tourists, geologists, travelers, engineers. The range of applications for topographic maps is extremely wide.
Can I use the Google Maps app for hiking?
Yes, Google Maps supports hiking routes and terrain maps, so you can use this app. All hiking routes are available as dotted lines. You can easily find your way to your desired location this way.
Despite this, Google Maps is not the best app for hiking, we advise you to take a closer look at the apps mentioned in this review.
Can I use my iPhone for hiking?
Since most mobile devices have a built-in GPS module, you can use iOS devices for hiking and using terrain maps. Accordingly, by installing the Hiking Project or AllTrails apps, you will turn your iPhone into a great hiking and travel assistant. You will have access to topographical maps and GPS navigation.
Was the information helpful?
Karma:

Ilia is a professional writer. He has expert knowledge in GPS and cartography with 15 years of experience. Additionally, Ilia has extensive experience in data recovery on PC and mobile. He started his career as a journalist by reviewing PC and mobile apps. His current responsibilities are to keep track of users' questions on MGT and answer them.