Published on

Updated on 
Best Weather Radar apps for Android Auto (USA / Europe)
Authors
Android Auto is a software for accessing the functions of your phone through your car screen.
At the moment, Android Auto has no built-in functions to display the weather report. However, an update is already planned. You'll learn about the weather radar features coming soon to Android Auto.
In the meantime, we'll take a look at the best weather radars for Android Auto that you can install separately. They display weather data on your car's display.
Table of Contents
Built-in weather radar in Android Auto
The good news is that the next versions of Android Auto will finally feature WeatherRadar. So, you won't have to install additional apps to keep up with the weather. All data is displayed on the vehicle's display, and all settings are made directly through the Android Auto interface.
Android Auto displays the current temperature, the forecast for the coming hours and days, as well as advanced weather data. The data comes from satellite and radar.
The information can be obtained either from the app itself or through an installed weather widget. There will be several design and layout options available for the widgets.
Features of the WeatherRadar app:
Radar maps show temperature, wind speed, pressure and other weather data.
Weather for the current day, for that day (by the hour), and for the coming week.
Alerts to extreme weather events.
You can see a list of all WeatherRadar functions here.
All the weather information in the city can be configured independently to display on the screen. Updating the data is automatic and is displayed via a widget. To use the app you have to connect your Android phone to the car via USB. There is no need to configure anything additionally.
At the moment, the list of all functions is unknown, as the app has only been announced. It is not yet integrated into the current versions of Android Auto. As soon as the public version of the app is released, we will update the review.
A mobile weather radar app, easy to use and as accurate as possible in its forecasts. You can view the weather for the next hours as well as for several days ahead.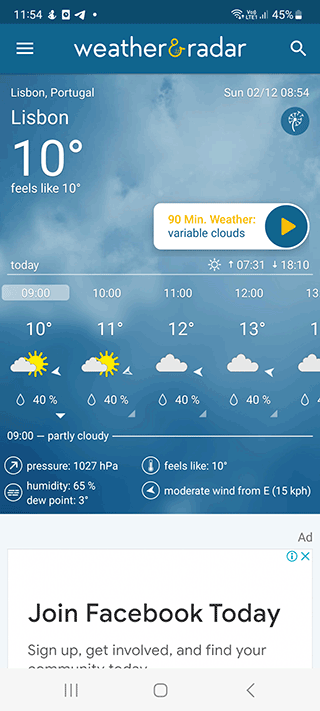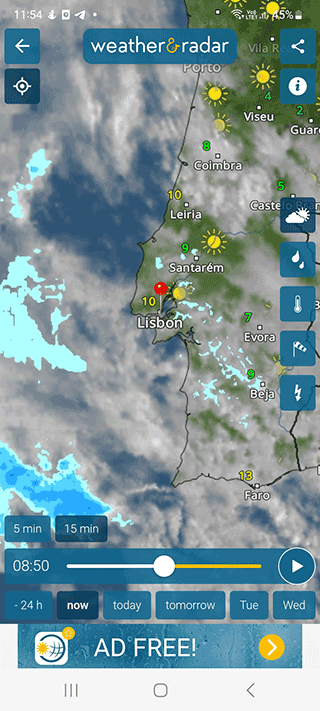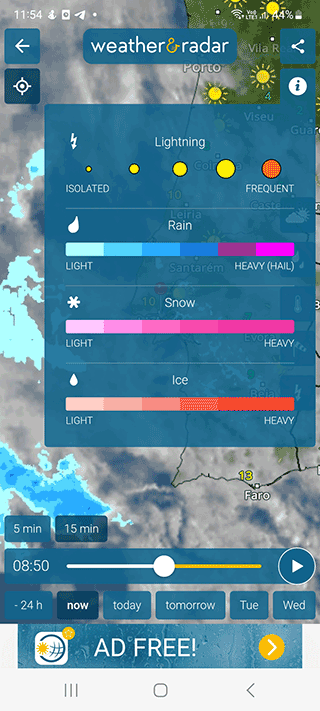 Weather & Radar provides users with accurate current weather reports and future conditions at their exact location. It also offers ski reports, weather alerts, rain/thunderstorm trackers, expert weather news and videos.
Features available for Android Auto:
Android Auto support.
Information on geomagnetic conditions, wind strength. Snow, storm warning. All this data allows you to predict the trip and avoid trouble.
You can set up a list of cities for the forecast
Calculating geolocation to accurately forecast the weather where you are now.
Choice between hourly or daily forecasts.
Sunrise and sunset times.
You can keep track of the weather forecast on Android without going to the app itself, through the car screen and Android Auto Dashboard.
Weather & Radar widget can be customized: select a city, forecast time, precipitation information.
Pros:
Accurate current weather reports
The app is free of advertising
Customization options for weather radar
Despite some issues, Weather & Radar has been praised for its ease of use, accuracy and layout, providing users with useful weather information and allowing them to submit feedback on how to improve the app.
A handy app to keep track of the current weather forecast for today and the coming days through the car screen. The app generates an individual weather forecast with an accuracy of a few kilometers.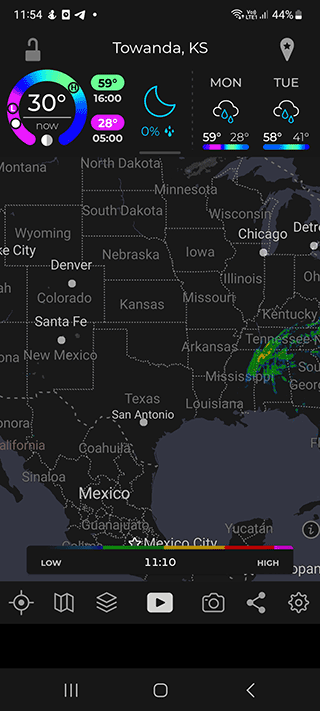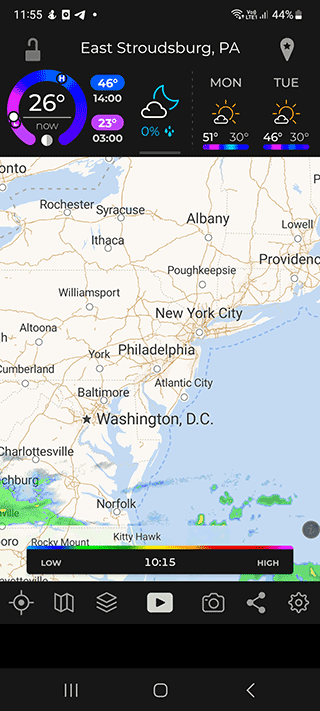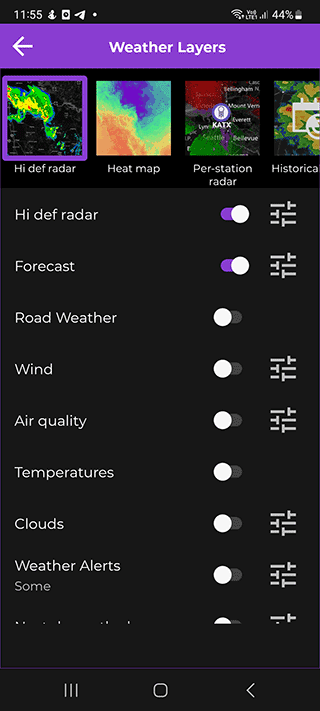 MyRadar is a fast and easy-to-use weather app that displays animated weather radar around the user's current location.
Features available for Android:
Forecast for the current day or week
Identification of individual geolocation - city, neighborhood, home address.
Alerts for sudden changes in the weather. In this case the user will get a pop-up notification in case of a sudden cold snap, heavy rains or other weather situations.
Information about wind strength, humidity, amount of precipitation.
Additional layers for predicting natural disasters: hurricanes, tsunamis, earthquakes, tornadoes
The easiest and most convenient is to install a separate widget for Android. Widgets are available for the notification panel as well as the home screen. Phone screen will display a summary of the current weather in the selected city or area.
This app is most often installed by residents of the United States, but in Europe, Canada, and Australia, it is also convenient to use. The most popular app MyRadar Weather Radar in extreme places and where the weather changes frequently.
Pros:
data safety features,
an interactive map,
customizable alerts.
Cons:
issues with refreshing every 20-30 seconds
Hi-Def radar not loading properly
Despite some issues with refreshing every 20-30 seconds on MyRadar recently due to updates, it is still considered one of the most accurate weather apps with a user-friendly GUI and great customer service.
User feedback:
"I have MyRadar Weather Radar app on my phone but can't figure out how to access it on Android Auto. What am I missing? I even contacted the app developer. They said it's not available for Android Auto. Looking for results"
Currently Clime: NOAA Weather Radar Live has over 10 million downloads and is frequently updated. The functions of integration with Android Auto are constantly being improved.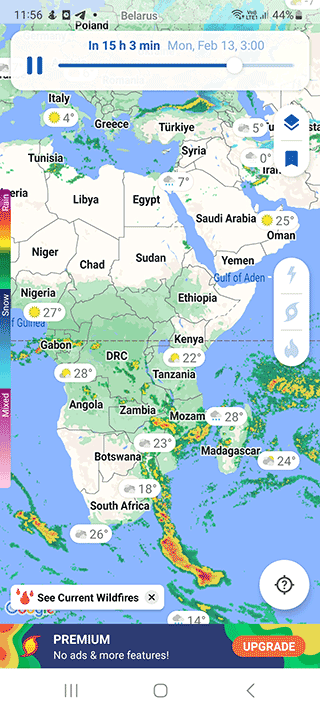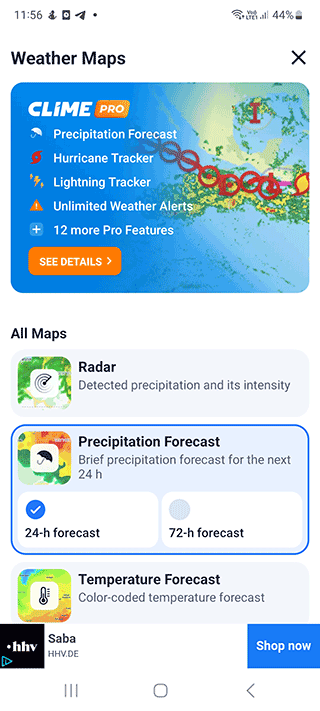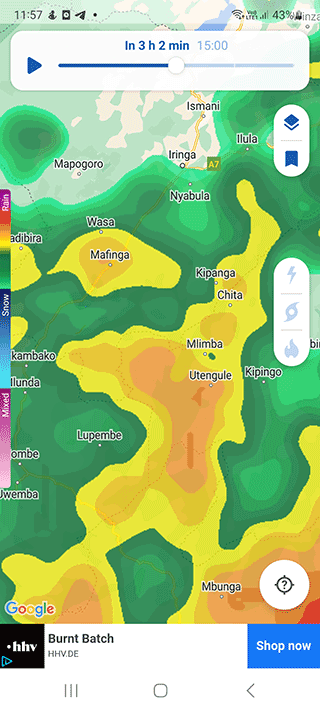 Clime Weather Service is a popular weather tracking app with a 4.3-star rating and over 10 million downloads. It offers real-time radar images, precipitation and temperature forecasts, customizable weather alerts, accurate weather maps, and more.
Radar coverage includes the US (continental), Mexico (northern), Canada (southern), Australia and many European countries. This app is primarily adapted to the weather conditions in the United States - all states and tens of thousands of cities are available.
The app automatically detects your location and offers a forecast for the current region, state or city. You can add other U.S. cities and update data for them. The news summary will be displayed on the Android Auto screen - in case you set up the app correctly and it doesn't glitch.
The following weather information is available:
Accurate forecast for the next 10 days with an hourly report
Temperature, rainfall, wind speed, pressure, humidity
Sunrise and sunset times
Rain alerts, storm warnings, severe weather reports
Hurricane and tropical storm tracking
Android Auto users recommend checking out this app, as it's one of the few that fits well on your car screen.
Pros:
real-time radar images,
hurricane tracking,
customizable weather alerts on Android Auto,
accurate weather maps.
Cons:
lack of accuracy in their location tracking
difficulties with the app's accuracy
Which Weather app for Android Auto is the best in 2023?
MyRadar offers features such as individual geolocation, forecast for the current day/week, alerts for sudden changes in the weather, and more.
Clime: NOAA Weather Radar Live offers real-time radar info, precipitation and temperature forecasts, customizable weather alerts, and accurate weather maps.
Both apps have pros such as accurate current weather reports, interactive radar map, easy to use interface and customizable widgets.
However, MyRadar has some issues with refreshing every 20-30 seconds on MyRadar recently due to updates and Clime has some accuracy issues with their location tracking. Despite these cons, both apps are still considered reliable sources of weather information on the go.
FAQ
Is there a weather radar app for Android Auto?
Yes, there is a weather app for Android Auto called the Android Auto Weather App. It allows users to access weather information such as current conditions, forecasts, and more directly from their car's infotainment display.
What happened to the weather on Android Auto?
As of March 2023, the weather app for Android Auto has been removed from the app store. Google has not provided any information about why the app was removed, but it is speculated that the app was removed due to lack of usage.
What is the No 1 weather radar app for Android?
The No 1 weather radar app for Android is AccuWeather. AccuWeather offers a wide range of features, including hourly forecasts, severe weather alerts, and interactive maps.
What is Coolwalk Android Auto?
Coolwalk Android Auto is an app that was designed to enhance the Android Auto experience by offering drivers a selection of apps and features. This includes the ability to view weather information directly from the infotainment display.
How do I add a weather radar app to Android Auto?
To add a weather app to your Android device, you can either download it from the Google Play Store or by manually installing an APK file. Once you have downloaded the weather radar app, you can then open it on Android Auto and configure the settings to your liking.

Ilia is a professional writer. He has expert knowledge in GPS and cartography with 15 years of experience. Additionally, Ilia has extensive experience in data recovery on PC and mobile. He started his career as a journalist by reviewing PC and mobile apps. His current responsibilities are to keep track of users' questions on MGT and answer them.