Published on

Updated on 
Best Off-Road Navigation Apps for iPhone / Android - 2023
Authors
Ordinary navigation apps do not cope well when you need to lay a route off-road. There are special mobile apps for Android, iPhone and iPad designed specifically for laying routes in difficult areas (in a hike, in the mountains, when driving a jeep). We have listed them in this review, as well as compiled our own top 5 best off-road apps in 2023.
Table of Contents
Off-road nav apps contain in their database, as a rule, more non-standard routes, are well adapted to the needs of travelers and hikers. In addition, off-road programs work autonomously and contain a database with addresses. So if you lose access to the Internet, mobile navigation apps will help you out and show the way home.
Which offroad app is the best in 2022?
Gaia GPS is the most versatile off road navigation app for Android, as it supports all possible types of off-road maps based on OpenStreetMap layers. It is great for extreme travelers and for off-road driving in difficult conditions. Keep in mind that offline maps are only available in premium version.
Polaris GPS - full-featured navigation system for Android. It will be useful in difficult off road situations, will help to navigate and find your location if the Internet is not available. This is a great functional off-road GPS app for a variety of scenarios.
Avenza Maps - one of the best free off-road GPS apps for iPhone. It works outside of mobile network coverage, so we can recommend it for iOS users. The app is suitable for fishermen, hunters, cyclists and drivers of jeeps and other off-road vehicles. It contains many maps, including military maps.
Sygic GPS Navigation - the best off road app for iPadOS 14.0 or later. The app works with offline maps, allows you to switch between navigation modes. You can also enable voice navigation, thereby improving your off-road driving experience. There are many maps for off-roading.
Off-Road Inclinometer has unique features you won't find in other mobile apps for both iOS and Android. In particular, you can use it to calculate pitch and roll. That's why this app can be called the best in the jeep trail app category.
Note. By the way, using off-road apps, you can build a route by points, specify coordinates and build the way to them.
Gaia GPS (Topo Maps)
Developer: TrailBehind Inc.
Price: Free / 2,89 € (pro)
App rating: 🐱🐱🐱🐱 4.4 out of 5
This app is great for hikers and skiers, truck and vans drivers. It has a lot of detailed maps for all countries, including USA, Canada and UK.
The peculiarity of the navigation app is that it can be used on a tablet, computer and phone due to quick data synchronization between them.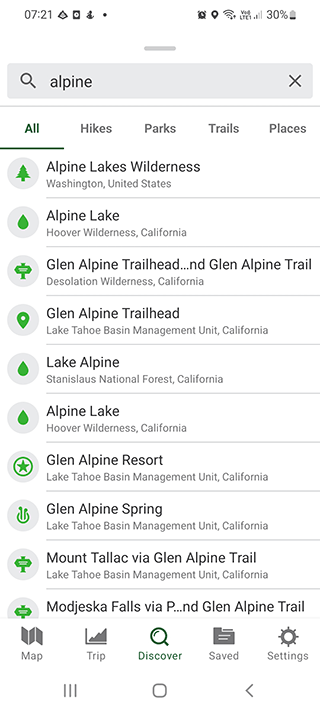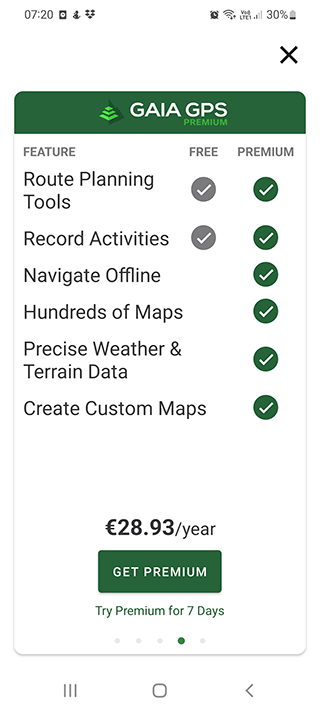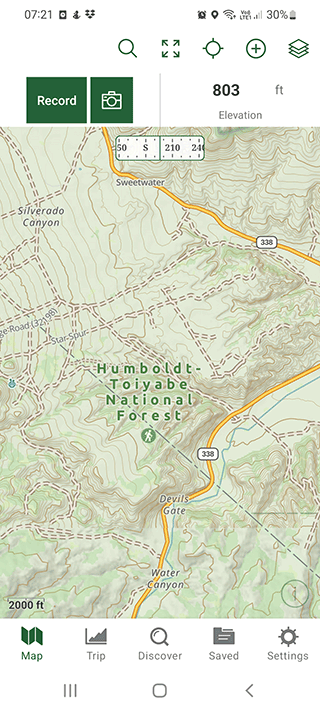 Top offroad features of the Gaia app:
Searching popular hiking routes for on-road and off-road travel
Maps for skiing
Creating your own maps with offline access
Access to synchronized maps;
Different types of maps - road, topographic, aerial ones;
Data display in vector or topographic form;
Synchronization of the downloaded data on different devices - tablet, computer, smartphone;
Share the traveled route with friends - by e-mail, via SMS, in the social network Facebook;
Creating a copy of maps and routes;
Building of your own route to a specified point in the coordinate system.
The app stands out for its flexible settings. The user can change units, coordinate types and other parameters.
Pros:
Main trails and landmarks on mountain routes are marked;
Ability to record their own routes of movement;
Display of the current altitude on the map.
Cons:
Inconvenient settings
Sometimes the route is built in a straight line without taking into account the roads
Polaris GPS Navigation
Developer: Disciple Skies Software
Price: Free / 1,09 € (pro)
App rating: 🐱🐱🐱🐱🐱 4.5 out of 5
Mobile navigation app for travelers, which will help to build a route on off-road. The peculiarity of the program is that you do not need to register an account and subscribe. Polaris GPS will build a route even in places where there are no public roads.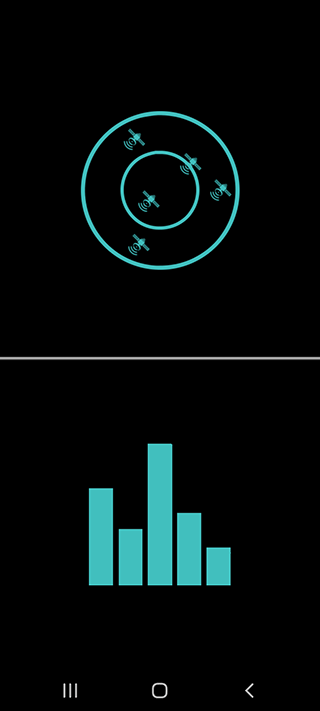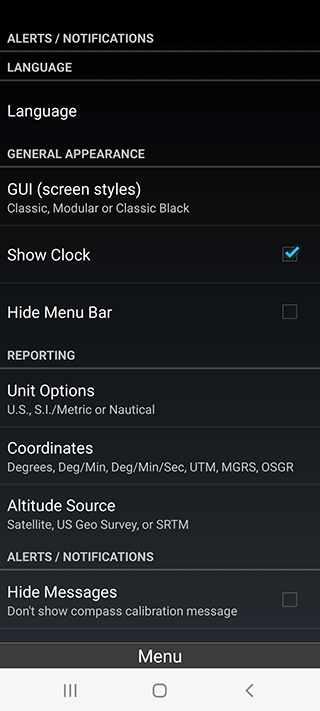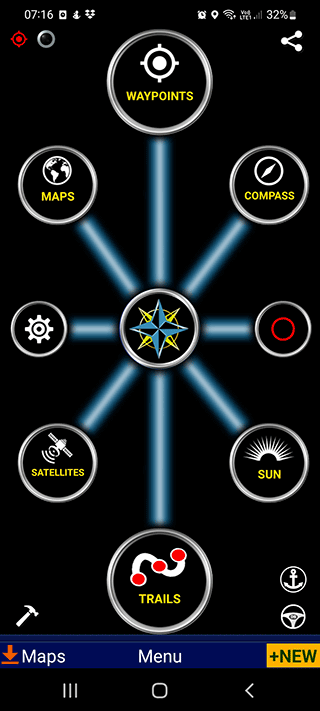 The app is mainly used in hiking and off-road trips on skis, motorcycle or bicycle. In addition to the navigation app, you can use it to track the basic stats of movement - travel time, average speed, distance covered, etc. There is also a compass. For those who go sailing on the sea or river, this will be useful.
Maps are available both online and offline. The latter option will allow you to travel off-road without fear of an internet disconnecting.
Features of the app:
Access to a library of vector and raster maps from around the world;
You can download an infinite number of maps;
Each map is equipped with clear icons and a detailed description;
Availability of a built-in compass;
Built-in odometer and speedometer
Suitable for sailing on the ship
Determination of the distance traveled;
Separate maps for bicycle travelers;
Nautical navigation;
Road navigation with street guidance.
Pros:
Works without internet
User-friendly interface
Extended additional features
Cons:
The app does not always connect to satellites
Off-Road Inclinometer
Developer: IronAppsDeveloper
Price: Free / 1,49 € (pro)
App rating: 🐱🐱🐱🐱 4.4 out of 5
The app is mainly used for off-road driving on iPhone / Android. With the help of built-in tools you can find out the current roll of the car, the slope of the road on which the driving is carried out.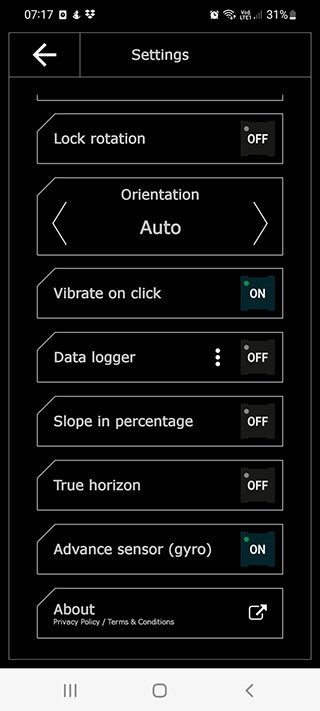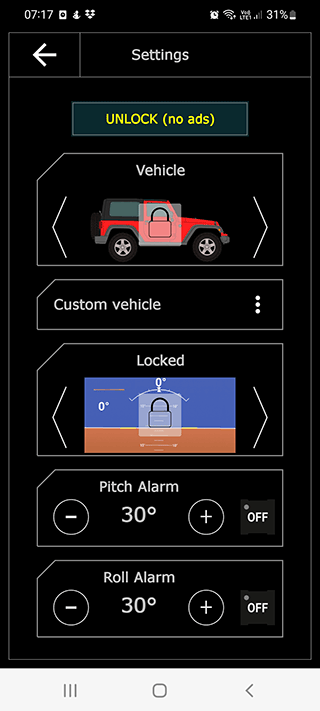 The navigation app has several features:
Automatic alerts the driver if the roll of the car has reached critical values (the parameter can be changed independently);
Dark and light interface theme;
Display in horizontal or vertical format;
Choice of vehicle brand;
Hiding of unnecessary parameters from the screen;
Minimum consumption of smartphone resources.
Pros:
Simple interface without being overloaded with unnecessary elements;
Determination of the roll of the car in real time;
Suitable for off-road driving.
Avenza Maps: Offline Mapping
Developer: Avenza Systems Inc.
Price: Free / 0,79 € (pro)
App rating: 🐱🐱🐱🐱🐱 4.7 out of 5
The app is suitable for planning hiking trips, for hunting and fishing, making bicycle routes. Several types of maps are available for download. You can create your own routes, import them and use them in other navigation apps. Geographic coordinates are displayed in several formats.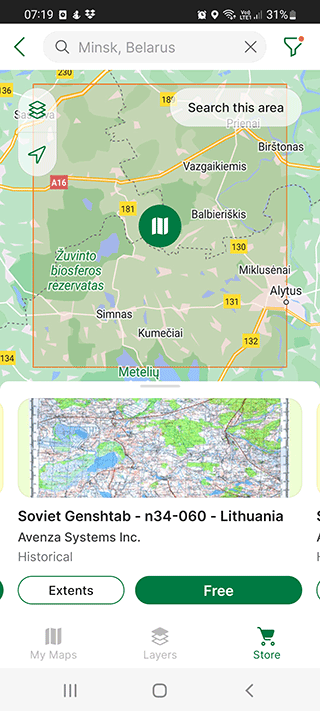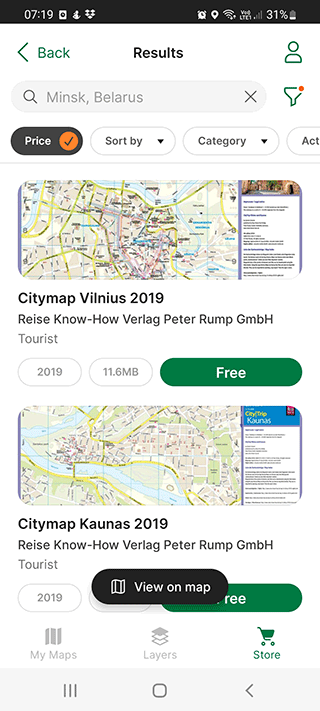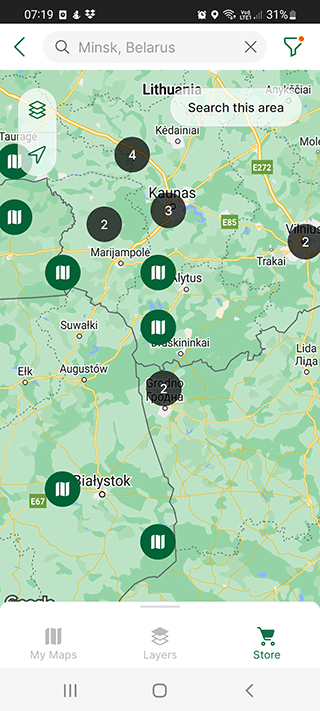 The Avenza Maps app will be the best option for navigation in the woods and in areas where there are problems with access to the Internet. After purchasing a subscription, restrictions on importing your own maps are removed.
Features and capabilities of Avenza Maps:
Determination of the user's exact location using satellite data;
Adding notes and photos, linking them to specific points of the route;
Editing vector data;
Calculation of the traveled distance and accounting of time spent;
Downloading maps from 3rd party publishers;
Quick technical support for users;
Possibility to import the user symbols for the map description etc.
Pros:
Satellite positioning without the use of the Internet
Ability to download maps for offline use
Creating your own routes with notes and photos
Cons:
Information on some maps may be out of date
Tracky - off-road navigation app
Developer: TrackThisOut
Price: Free / 2,99 € (pro)
App rating: 🐱🐱🐱 3 out of 5
The app allows you to determine the user's current location, sharing the routes taken with others. Several map options are available with online or offline access. The program will allow you to build a route even in places where no one has set foot before. Access to all maps is completely free, you can share your route with other users in real time.
Hiking tracks are recorded regardless of the mode of transport on which the user travels. The app is suitable for hiking, for running, for cycling or driving. Via visual parameters, you can track the current altitude, the distance traveled, the speed of movement. It is possible to create "attention points". They will allow you to quickly find where you parked your car before starting your journey.
Features:
Build your own driving route using moving points;
Access to pre-builded routes from other users;
Clear visual and audible driving route instructions;
Quick routing to almost any address;
Connection to satellites and maps without internet;
Large compass on the main screen.
Pros:
Ability to share your route you've traveled with other users of the app;
Access to online and offline maps in different formats;
Creating "attention points" for important locations;
Graphs of speed and altitude.
Sygic GPS Navigation for iPad
Developer: Sygic
Price: Free / $0.99 (pro)
App rating: 🐱🐱🐱🐱 4.4 out of 5
To get started with Sygic offroad navigation, download offline maps to iPhone or Android. Without this, the app will not work. Therefore, it is worth downloading and setting up Sygic before you go on a trip.
Downloading offroad maps on iOS can take a long time, it is recommended to grab them via wi-fi network.
After downloading, an animated 3D model of the land is displayed. You can manually zoom in on it, but the maps will load very slowly.
In general, the app is suitable for off roading, but for a comfortable using you have to buy a premium version. Without this you can not even set up sound notifications.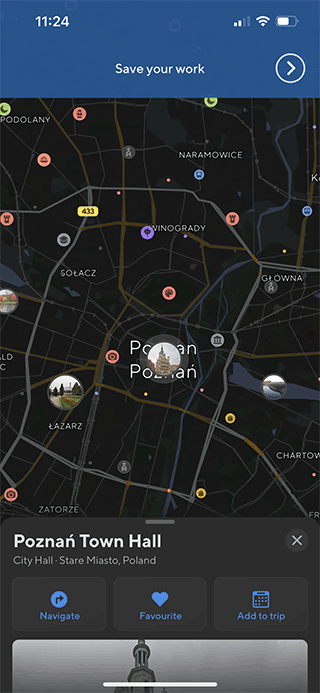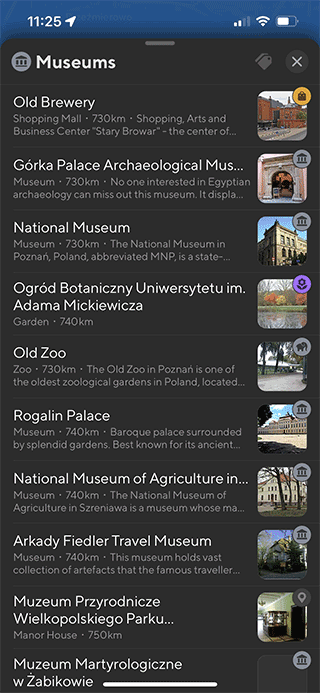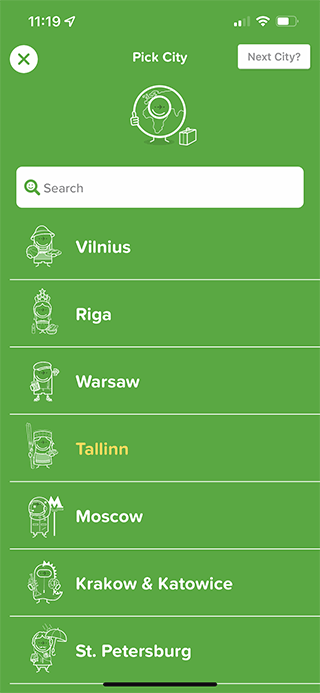 Pros:
Built-in offroad navigation for trips by car. It can be configured, to display freeways, toll roads, charging zones, crossings, and bypassing unpaved roads;

Saving routes;

No ads;

Comfortable map management section, where you can switch between downloaded resources.
Cons:
Some features are available after purchasing premium version, such as the name of the current street, etc.

The amount of traffic is also displayed only in premium, in comparison with Google Maps, this is a big disadvantage;
Roadtrippers
Developer: Roadtrippers
Price: Free / 7,49 € (pro)
App rating: 🐱🐱🐱🐱 3.7 out of 5
At the first launch you will be prompted to register an account, but you can conduct activities in this app without it.
Roadtrippers has an extremely nice design - minimalistic and user-friendly. On the main screen, you can select places to search nearby: diners, hotels, bars and pubs. It should be said right away that this app is unlikely to be useful in all countries of the world, but it is suitable for quick navigation in Europe and the United States.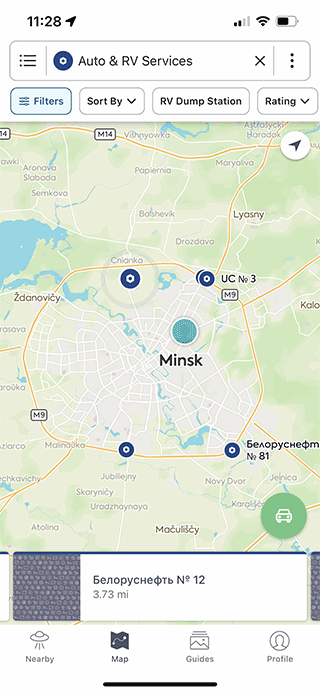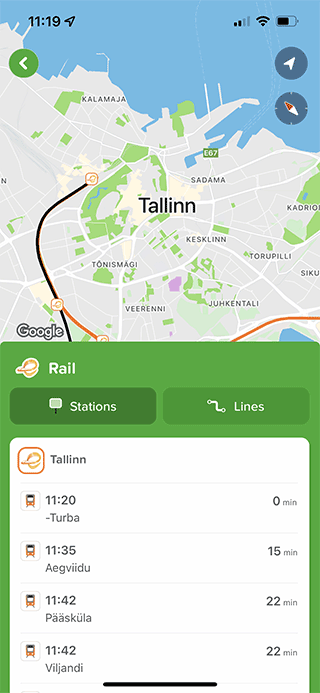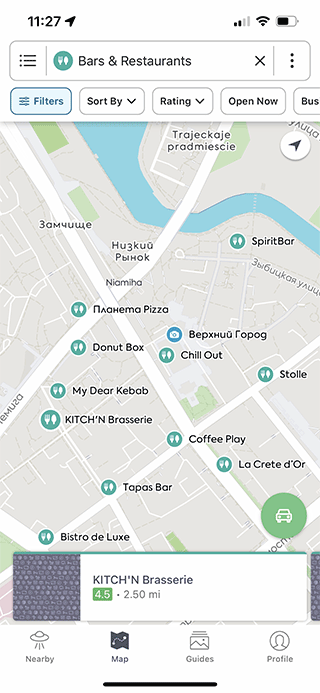 Unlike previous iPhone apps, this one requires manual permission to use geolocation. The navigation app here is not the most convenient - there are no additional screens with information about speed, travel time. There are also no voice notifications.
Outdooractive: Hiking Trails
Developer: Outdooractive AG
Price: Free
App rating: 🐱🐱🐱🐱 4.4 out of 5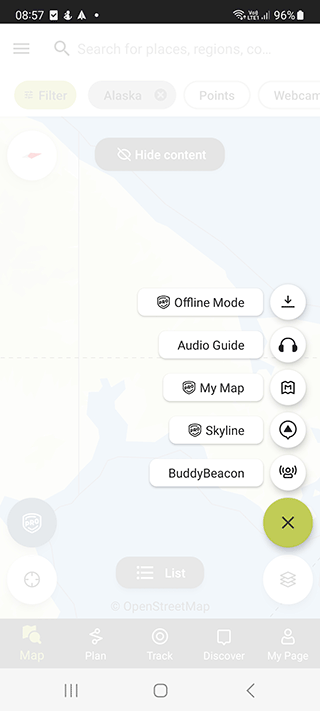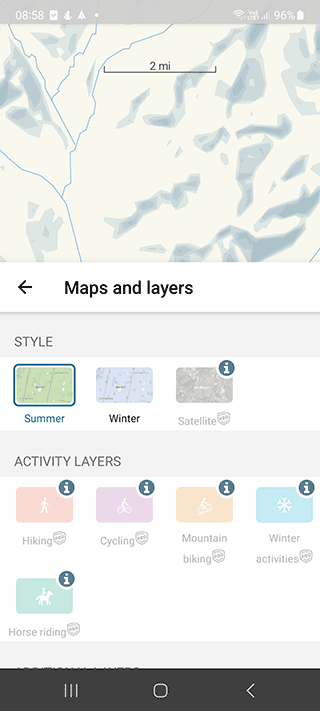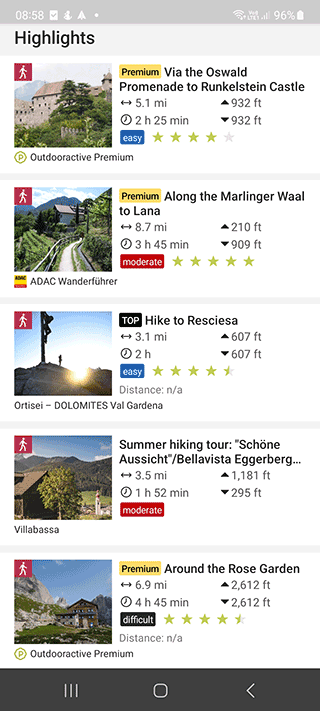 The OutdoorActive app is used by hikers all over the world. First of all, it helps you plan your trip route and track your movements along the way. Thanks to detailed maps, it is possible to make a plan down to the smallest detail.
Note the most interesting features that will be useful if you are going to hiking places:
Mountain Huts database: hours of operation, statistics, traveler reviews
Infrastructure search: where to stay, best hotels, stores and gas stations near your current location
Vector and 3D hiking maps - displays everything to the smallest detail, all mountains, peaks, rivers and lakes, roads and facility names
Voice navigation with notifications and prompts
Integration with devices (AppleWatch) and services (Apple Health)
Recording hiking trip itinerary with all stops. Available statistics on location, coordinates, distance.
The app will be useful not only for hiking, but also for cyclists, motorcyclists and hikers. You can use the app for sport walking, hiking.
Wikiloc Outdoor Navigation GPS
Developer: Wikiloc Outdoor SL
Price: Free
App rating: 🐱🐱🐱🐱🐱 4.7 out of 5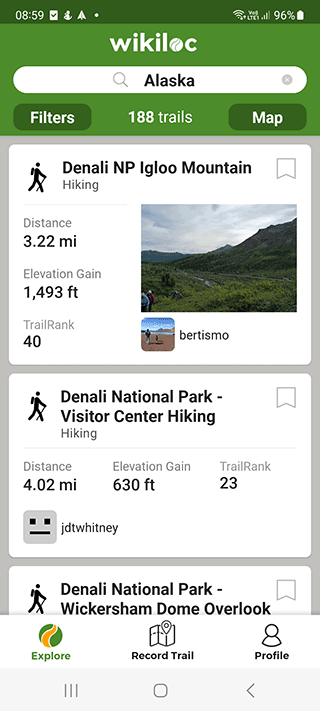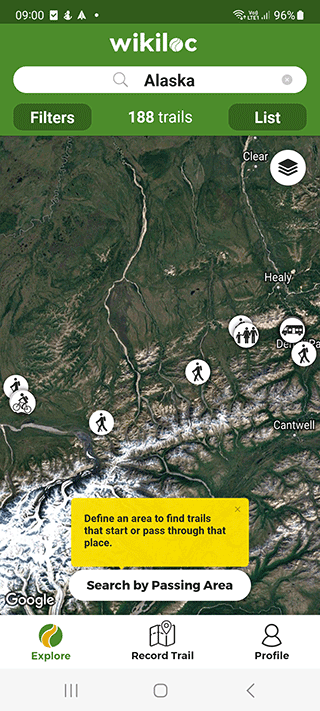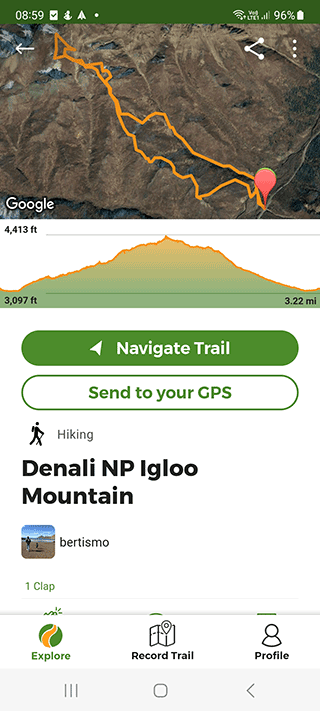 This app is one of the best guides to outdoor trails. It supports about 100 sports activities, including hiking, hiking, and running. All tracks can be recorded in a local file, noting achievements and sharing statistics with other hikers and athletes.
Main features of the Wikiloc Outdoor Navigation app:
Detailed topographic and offroad maps, with the ability to make changes, add tags and photos to a separate layer.
Offline: If you are away from home with no wi-fi or mobile connection, offline maps will help you out.
Great support for the iPhone's built-in GPS features, including using Live Tracking to share your location with friends, other travelers, and family
Weather forecast for the near future and several weeks ahead according to the U.S. weather service
Peakbagger
Developer: Andrew Kirmse
Price: Free
App rating: 🐱🐱🐱🐱🐱 4.8 out of 5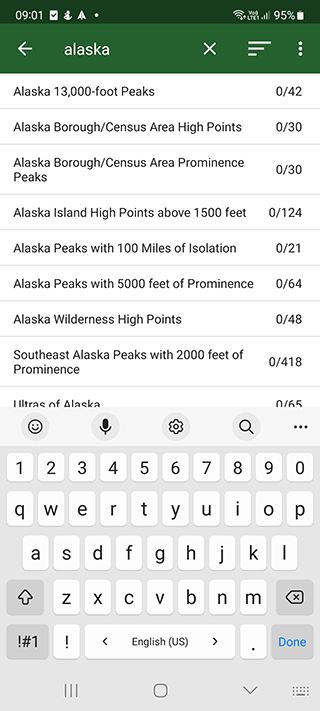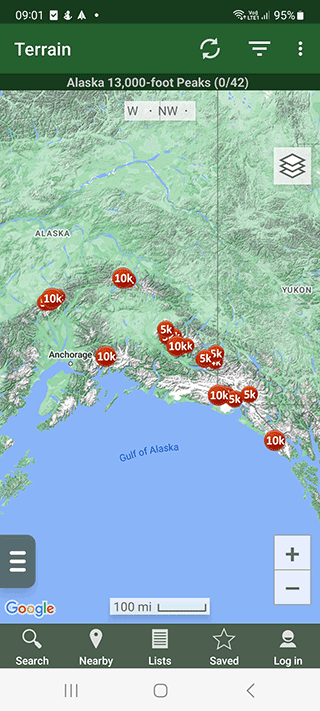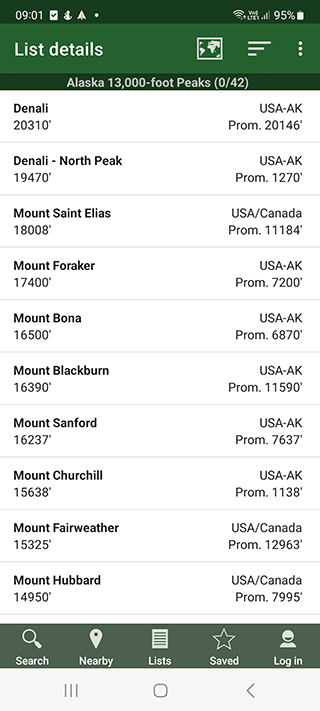 Often, in order to do hiking, you need to search for information on thematic sites. The Peakbagger app allows you to speed up this process considerably. It is a database of mountains and useful information taken from Peakbagger.com and ListsOfJohn.com.
Features of the app:
Saving progress: peak lists and traversed routes
Search for nearby peaks and other points on the map that may be of interest for hiking
Statistics on the peaks: popularity, number of climbs, altitude and difficulty
Detailed weather forecast for the specified day of the week according to the US National Weather Service.
Offline operation
Satellite images of the area
Track log on map and view it afterwards, export it in GPX, KML, KMZ or other format
Advise the app for mountain hikers to climb peaks, find information on mountains and publish their progress and discussion with other users.
Scenic Map
Developer: GrangerFX
Price: $4.99
App rating: 🐱🐱🐱🐱🐱 4.5 out of 5
3D topographic maps will be useful for hiking annd offroading. Detailed maps of the best hiking trails are present.
The maps can be used even in the absence of the Internet, for this you will have to download them to the iPhone in advance. In addition, maps are cached in the memory of the mobile device, so the areas on the map that you have previously viewed will be available offline. This is a very useful feature, especially for hiking in the sparsely populated areas.
In addition to infrastructure, roads, you can see a detailed map of the terrain, including uplands and lowlands, all down to the smallest detail.
Additional features:
Support for maps of the entire Earth, USA / European cities and surrounding areas
Detailed maps as Satellite image overlays - useful for travel
Automatic map updates courtesy of OpenStreetMap.org
Record your track as a file that you can play back on iOS
Create a route from any point or current location
We recommend this app to all lovers of hiking and active tourism - anyone who has decided to travel or hike.
Hiking Project
Developer: Adventure Projects
Price: Free
App rating: 🐱🐱🐱🐱 3.7 out of 5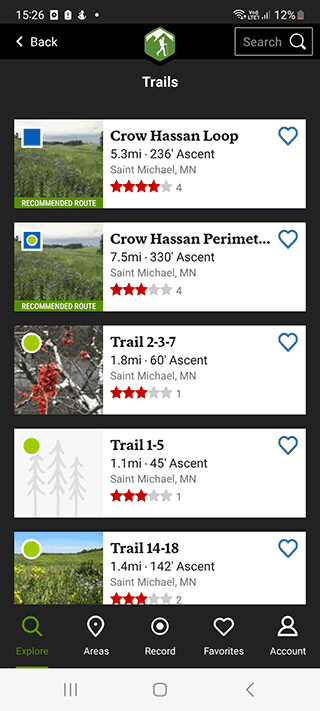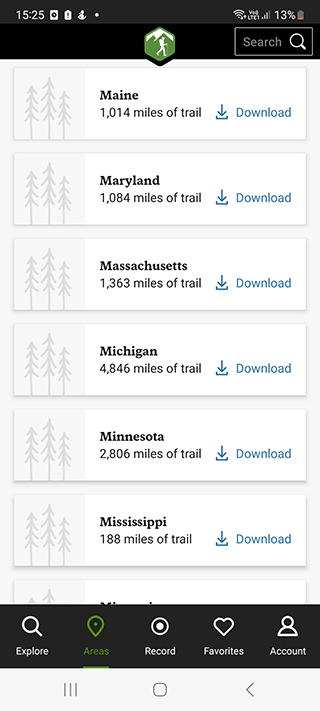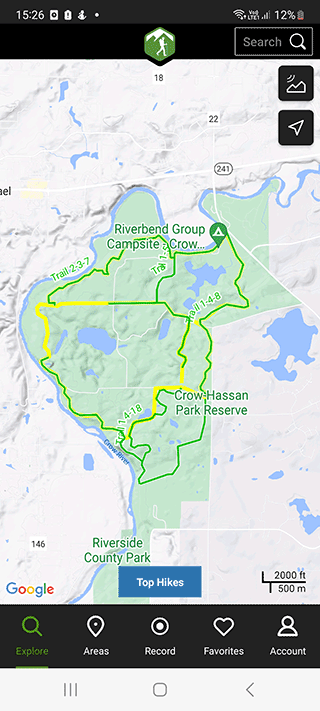 Hiking Project is an app that develops through the contributions of the community - users of the application from all over the world. It is best suited for those who enjoy hiking in the US and Canada.
Hiking is available all over the world, for this you need to learn points of interest, or Gems. You can select a specific region, location, country, and you will have all the possible routes for hiking.
For each hiking route detailed description is available: distance, route, upper and lower points, route complexity, for whom this hiking route is suitable. Therefore, each user can choose the activity to his taste and physical fitness.

Ilia is a professional writer. He has expert knowledge in GPS and cartography with 15 years of experience. Additionally, Ilia has extensive experience in data recovery on PC and mobile. He started his career as a journalist by reviewing PC and mobile apps. His current responsibilities are to keep track of users' questions on MGT and answer them.