Published on

Updated on 
Best walking distance measure apps for Android / iOS devices
Authors
There are lot of applications to monitor activity and measure walking distance available for mobile devices. These are not only pedometers, but also tracking applications, which track user's movement on the map. In addition to the accelerometer of the phone, such applications also use the data obtained from fitness wearables.
Today we will review apps that primarily analyze the walking distance. You can download them for free.
Table of Contents
Which app to measure walking distance is the best?
What app to measure distance walked? Here is our Top 5 of the apps for 2023:
Best for its features: Lasta - Step Tracker App. This is the ultimate pedometer app that can track your progress, whether you're walking or working out. Thanks to the easy-to-navigate interface, all the necessary info is within one click. The step tracker app Lasta shows the number of steps you traverse, the distance you cover, and how many calories you burn per session. The pedometer is friendly to iOS and Android devices. Apart from that, you've got plenty of other handy features, including a calorie counter, mood tracker, meal planner, and much more!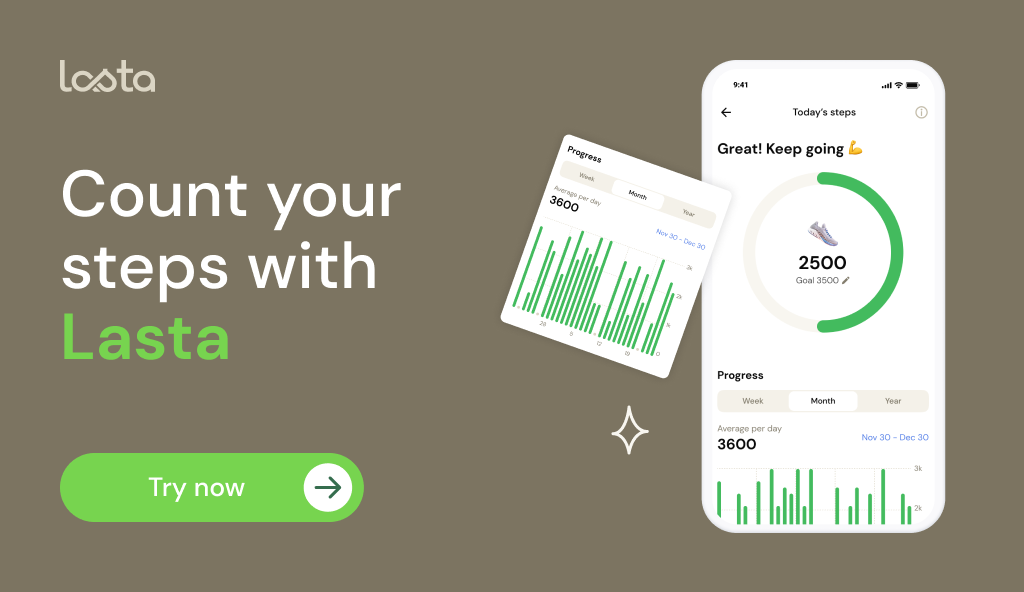 Best Overall: MapMyWalk. The app includes a walking distance calculator that allows you to accurately measure the distance walked in meters. You can choose the type of activity: walking, running, jogging or hiking. You can share the app with family members or friends.

Best for counting calories burned: Pedometer - Step Counter. The app is easy to use and does not require long setup. It is enough to specify the input parameters of the person who uses the application (weight, height, age) and select the calorie counting mode. A simple walking distance calculator is included.

Best Workout Planner: Fitzeee Walk. No registration required to start measure distance walked. Just run the app - it starts collecting statistics. You can count both in miles, steps or kilometers. Many Workout modes available.

Best for beginners: RunKeeper. This application has no complicated settings, which will be interesting for beginners. After creating a basic profile, you can keep statistics and further analyze it. For each type of activity (run, sprint, marathon, etc.) you can set goals and measure walking distance on a phone.

Best app for hiking: Pedometer - Step Counter. Despite the fact that the original function of this app is to count the distance covered, it is very convenient to use for hiking and off-road travel. There are auxiliary tools: calorie counter, voice assistant and distance calculator.
How does a distance measuring app work
A step counter app allows to:
control burned calories;
focus on covering longer distances;
increase the productivity of walks.
Modern people walk on foot far less than our ancestors. Due to the changed way of life: sedentary work, use of a private car or public transport, etc. In order to be in good shape a person needs to make at least 10 thousand steps per day.
It isn't difficult to count steps via a gadget and this is exactly what a distance measuring app is designed for. It can be useful for people who lead an active lifestyle, take care of their health and keep their figures.
Pacer – free distance measuring app for losing weight
Pacer syncs the data on walked distance and the burned calories with Google Fit app. This step tracker can be used on your mobile device without any additional settings. It's easy to work with:
Download and launch the app and it'll count the steps every time you take the gadget with you.
You can check your walking history in the "Charts" tab.
Share your achievements with friends via the "Groups" tab.
In the the "Me" tab you can keep a track of your weight.
The main features of Pacer:
Counting steps, burned calories and time of walking or running.
Tracking weight and body mass index and analyzing the influence of the level of your activity on it.
Syncing information with your MyFitnessPal account.
Graphical representation of data.
Additional features:
recording jogging, walking and cycling routes;
creating groups for like-minded people, comparing achieved results in real time;
training healthy habits.
Pacer app is available free of charge since it displays ads.
MapMyWalk
Developer: MapMyFitness, Inc.
To use MapMyWalk, the user needs to complete registration. After registering, a page with a map will be opened. A notification appears at the top of the screen that you need to access the GPS. It can be ignored. In addition, the main screen displays:
Walking pace, calculated from the distance walked per minute;
Average pace;
Calories;
Time spent walking.
The interface of MapMyWalk is simple. The functionality is tiny, which will not allow the user to get confused the first time. It is recommended to choose the training mode for more accurate calculation: sport walking, steps, track, dog walking, etc.
In the premium version of MapMyWalk, the user can use live workouts with people from the list of friends. Also, the paid version allows the user to create a workout plan, check heart rate, set intervals and connect an audio trainer.
A big advantage of MapMyWalk is that the app performs its function well without a paid subscription. Thanks to premium, the functionality expands.
Subscription costs: about $22 per year or about $4.5 per month. Keep in mind that prices vary depending on the region and the exchange rate.
Adidas Running
Developer: Adidas Runtastic
Before you start running with the app, you need to register or log in to your account via Facebook or Google. By logging into the account via Google you give the application access to your confidential information. The safest way is to register via email.
Next, the user provide basic info for a more accurate calculation of steps and grant the necessary permissions.
The interface of Adidas Running is minimalistic, without unnecessary advertising. The main screen calculates time, calories, distance and average pace.
Playing music is an unusual and very useful feature. You can choose either from your own playlist or from the one picked up by the application. But this option available in the paid version only.
Via the Settings, the user selects the type of activity, workout, and music.
Another very convenient feature is a customizable interface. In addition, the app has heart rate mode, voice coach, live-runs and auto-pause (the latter only in the premium version).
From a special tab, the user can track his / her progress, goals and statistics. There is also a training program, records and bonuses.
The cost of the premium version of walking distance measuring app - from 30 dollars a year, depending on the region.
Fitzeee Walk
Developer: Fitzeee Fitness
Unlike previous walking distance measurement apps, Fitzeee walk does not require registration.
The main screen measures calories, speed, time, and distance walked. In the same section, you can switch the day or night theme - a great solution for users who decide to go for a night run.
Fitzeee walk has a handy count of stats and workout history. The settings are not as flexible, but you can choose the units, your data: height, weight, gender and age. You can also adjust the sensitivity of the pedometer or auto-pause.
On the main screen, you adjust the mode of operation (map or steps), as well as the map mode (satellite, hybrid, terrain).
There is no paid content in the application, but many users complain about too frequent pop-up ads.
Another downside is that you can't connect the app to your watch or other devices.
Komoot
Developer: komoot GmbH
The Komoot app has a wide range of functionality: calorie counting, map, route building, and workout type selection. This app for measuring distance walked is great for built-in navigators (for example in a bicycle, or as a watch app). The interface is somewhat reminiscent of popular mobile navigators, but it's focused solely on exercises.
Map mode and geolocation are customizable, and basic data can be entered in the profile. Through the application, it is possible to communicate with other participants. There is a profile system where people can publish their achievements. This can be a great motivation for a newcomer.
Komoot is great for users living in European countries. The construction of routes there will be more accurate, as well as the search for various places marked in advance on the maps.
Developer: ASICS Digital, Inc.
After registering RunKeeper profile and giving all the basic permissions, you need to take a small survey. You will be asked for what purpose you use RunKeeper - for weight loss, keeping fit, or whatever. This will be followed by a question about the longest duration of your run (you can answer that you are just starting to run) and setting a goal.
The walking measurement app's interface is quite complex. But the maps and the main control buttons are on the main screen. You don't have to go into the settings separately to select a workout type, music, or to set up stats.
A big advantage for some users is that the app will offer a variety of challenges. For example, Earth Day runs, world marathons, etc. These runs are counted in the statistics, and also serve as a good motivation for athletes.
In the reviews there are complaints about the incorrect operation of the GPS within the application and on the vibration of the application window, however, this problem may not occur on all devices, so the user will have to personally assess the quality of navigation.
Pedometer - Step Counter
Developer: zeopoxa
Platform: Android
This app is mostly used to count the walking distance covered. It is easy to activate the step counter in one tap. As a result, the app will provide you with information about the number of steps, calories spent, speed of overcoming the distance and other useful data.
The main features of the walking distance calculator:
Counting calories burned.
Goals: walking distance in kilometers / per day, consumed calories.
Voice assistant: promptly informs about important events, including the achievement of goals.
Walking distance calculator.
Detailed statistics for the selected period of activity.
The application can be downloaded for free, it does not have pro-functions that need to be unlocked. It will be useful for users who lead an active and healthy lifestyle.
The application has a good rating - 4.4, the reviews in most cases are positive.
Walkmeter GPS Pedometer
Developer: Abvio Inc.
Platform: Android, iOS
This walking distance measure app works not only on Android, but also on iPhone. It will be useful for travelers, hikers, cyclists, car drivers. In fact, Walkmeter turns your mobile device into an onboard computer with a variety of activity tracking features.
The main features of the Walkmeter app are:
Synchronization with Google Maps: you can view the landscape and traffic jams.
Using mobile device sensors to count heart rate, heartbeat, steps walked.
Weather forecast and weather conditions on a track.
Walkouts and goals.
Audio assistant, notifications and announcements about the passed routes and completed goals. More than 100 announcement tasks are available.
Improvement of existing results (if available on the selected track).
Statistics in the form of graphs, the ability to share results with friends online.
The walking distance tracker is stable in general, but users complain about unpredictable performance on older devices. In addition, Walkmeter may be unstable when the battery level is low.
Off-Road Explorer
Developer: Psyberia
Platform: Android
A versatile distance tracker app for walking, application for athletes and people who love an active lifestyle: hiking, hiking, swimming and more.
To lay the routes, you can use topographic maps, which work offline - just download them to your phone as local files.
The program uses not only GPS, but also magnetic sensor, saving phone resources.
As a result of movements, a track is displayed on the map. The user can also view statistics and interactive graphs: what distance was covered, speed, heart rate, heart rate and other parameters. Some of them are available only when using a fitness tracker.
Let's note the key features of the walking distance measure app:
Online and offline maps with good detail and the ability to switch to satellite display. The names and purpose of the objects are signed.
Available calibration device.
Creating routes, tracks on maps.
Customizable map display, including colors, transparency, fonts.
Ability to use external sd card to store terrain maps.
Built-in barometer and compass.
AlpineQuest Off-Road Explorer app is available in free and Pro versions for Android.
Step and calorie counter
Developer: Pacer Health
Platform: Android, iPhone
Simple free app for iOS and Android, which accurately and efficiently track walking distance, counts steps and calories. It will be useful for you if you follows on a diet or want to lose weight fast.
The Trends section provides information about your activity - what distance, in steps, has been covered, goals accomplished and time spent. Under Plan, you can set personal goals.
If the accuracy of the measurement is not satisfactory, you can calibrate the device, its sensitivity, through the settings of the Pedometer app.
Features to watch out for:
Built-in pedometer: automatically counts the distance traveled based on the number of steps.
GPS tracker: tracks your movement on the map.
Synchronization with Fitbit devices.
Constant activity monitoring, step and calorie counting.
Step counter from Zeopoxa
This app can be easily launched with just one click on "Start" and then you can put your mobile phone in a pocket.
How does the distance measuring app work? It tracks:
The actual number of taken steps.
Walked distance in km / miles.
The duration of walks in minutes / hours.
Walking speed.
The number of burned calories.
The distance measuring app app has several additional features:
voice comments (which are convenient for documenting);
you can set a goal (for example, the number of moves to make per day) and receive a notification after reaching it;
display of indicators in the form of graphs with the possibility of comparison.
You can install the app for free without registering on third-party services. This app uses only the built-in features of Android.
It shows advertising content.
Step Tracker additional features
Changing screen themes according to a day time.
Adjusting the counter sensitivity.
Authorizing via Facebook.
Being able to pause or continue counting steps.
Operating when the phone is locked.
The app is free but it shows advertising content.
Pedometer – steps and calories counter
This walking app tracks the number of taken steps and burned calories, controls the body weight of a user via scientific methods and visualizes the obtained data in graphs.
Its main features:
Accurate counting of made moves in real time.
Differentiation between walking, driving and other ways of moving.
Calculating burned calories.
Tracking travelled distance, walking time and the number of taken steps at different times of a day.
Generating reports and creating charts for different time periods (a week, month or year).
Daily PUSH notifications on your progress.
Its additional features:
Personal settings (the measurement units of height and weight), setting and updating walking goals.
Awarding bonuses: granting badges for every 10 thousand steps.
Syncing user's workout data with Google Fit.
Operating in the background without logging in.
Sharing achievements with friends.
Confidentiality.
Supporting multiple languages.
Every feature of this distance measuring app is provided free of charge. It shows advertising content.
Free Pedometer for Walking and Running
This step counter tracks its user's motor activity (including running and walking), stores the information for the entire period of using and presents it in a graphical form.
The features of the pedometer:
Instead of GPS it uses an accelerometer for counting steps which allows you to work with it in indoor stadiums and sports grounds thus saving the battery of your device.
This app works even when your device is locked, however this may impair the accuracy of the data on some android devices.
You can manually adjust the sensitivity of the pedometer, taking into account the location of your phone while walking or running (in a bag, pocket, etc.)
The step counter supports all well-known measurement units.
It can be installed and launched for free, but it displays advertising.
Step and calorie counter by Leap Fitness Group
This app tracks burned calories, walked distance and time and provides information in easy to understand graphs. In order to start counting steps simply press the "Start" button.
The features of the app:
In order to receive accurate data in the settings you have to specify the initial information which is used for calculating travelled distance and burned calories.
If you have any doubts regarding how accurate the steps you take are counted, you can change the sensitivity of the app counter manually.
This accurate distance measuring app uses built-in sensors for tracking steps thus saving the battery of your device.
It operates even when your phone i locked.
The main features of the app:
Tracking the number of taken steps and calculating walked distance and time.
Creating charts per day, week or month.
Being able to pause or resume counting, as well as to reset data and start counting steps from the very beginning.
This app is distributed absolutely for free, but it has advertising content.
Download Step and calorie counter
FAQ
Is there an app for iOS and Android to measure walking distance?
Yes, check out MapMyWalk. The app counts how much distance you've walked in kilometers and miles. It also captures metrics like average speed, heart rate, and time spent. MapMyWalk app is free in its basic version and is available both for iPhone and Android.
How accurately does iPhone count the distance covered?
There are many different factors that affect the accuracy of distance measurement. On average, the inaccuracy ranges from 2 to 5 percent.
If your speed is constantly changing and the connection to the satellite is unstable, the inaccuracy of distance calculation can be up to 50%.
How does a phone count distance walked?
The GPS receiver is used to calculate your distance. Accelerometer is used for step counting. Both are present in most iPhone and Android devices.
How can I improve the accuracy of distance calculation on my iPhone?
Using the Motion Calibration function, you can improve the accuracy of the steps taken and distance covered. This setting is present in the Location Services section of the Settings.
How long will it take me to walk 5 miles?
It takes 15 to 20 minutes at an average pace to cover a one-mile distance without interference. Therefore, it will take you about 40 minutes to 1 hour and 10 minutes to walk 5 miles.
You can verify this by using the step counters app on your mobile device.

Ilia is a professional writer. He has expert knowledge in GPS and cartography with 15 years of experience. Additionally, Ilia has extensive experience in data recovery on PC and mobile. He started his career as a journalist by reviewing PC and mobile apps. His current responsibilities are to keep track of users' questions on MGT and answer them.