Published on

Updated on 
The best GPS boat speedometers, sea apps - 2023 for Android / iOS
Authors
Sailors and boat owners are once faced with the question of choosing equipment such as speedometers, compasses, gyroscopes, etc. All of these functions are often combined in a mobile phone. It is also important to choose not only the device itself, but also the software that will be easy to use.
The apps listed below are excellent for installing on the built-in computer of the boat as well as for downloading to the phone. Almost all of the options listed have additional functionality suitable for use on Fishing boats, dinghy boats, cabin cruisers, etc.
Table of Contents
Before installing, keep in mind that accuracy depends not only on the app itself, but also on your device. If it works with hiccups, the speed may not be detected correctly either. In general, count on a 5-10 km error during a high speed trip.
iNavX: Marine Navigation
Developer: NavX Studios
Price: €1.09 - €224.99
App rating: 🐱🐱🐱 3.1 out of 5
iNavX is a comprehensive navigation tool that provides users with access to marine charts, maps, weather forecasts, AIS integration, nautical instrument integration, track log for saving routes, unlimited markers for saving fishing spots, anchor alarm, port/navaid search and more.
The app displays not only maps, but also the weather and the current speed of the boat.
The main functions of the app:
Routes planning and management
GPS boat speedometer
Saving places to favorites using geotags
Weather forecast for selected region using Theyr Premium Weather services
Chart-plotter: View your current location and get real-time route details
View detailed maps of the area
Getting data about the current location: depth, current speed,
Boat data: battery and boat engine status, speed
Maps are available in high resolution (NOAA RNC) and free for the app subscribers. Other maps from state hydrographic agencies are also available.
Cons:
lack of intuitive UI
difficulty cancelling subscriptions
Pros:
providing detailed charts and navigation.
AIS integration
unlimited markers for saving fishing spots
Mariner GPS Dashboard
Developer: Watch & Navy Ltd
Price: €1.09 to €23.99 per item
App rating: 🐱🐱🐱🐱 4.2 out of 5
Mariner GPS Dashboard is a real-time speedometer, navigator and route planner for your boat. The app allows you to log all the necessary information throughout the route and save it to the cloud. It works on Android, also it supports integration with smart devices (Wear OS).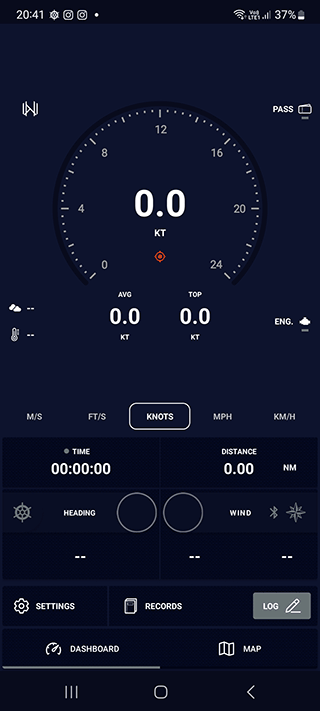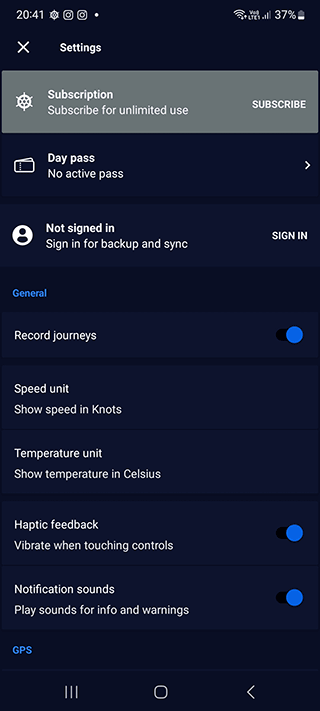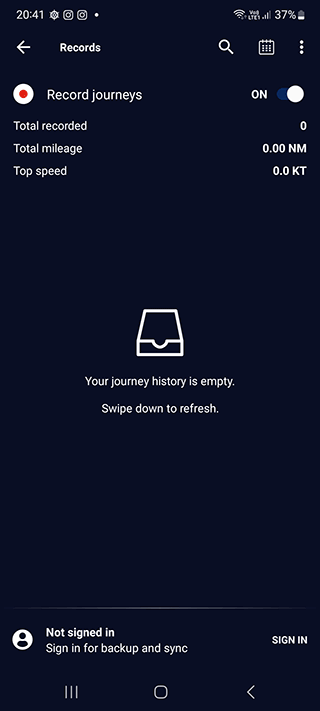 The key features of the Mariner GPS Dashboard app:
Track current position and whereabouts in real-time
Monitor and analyze performance with in-depth analytics
Recording GPS track throughout the route (available data such as speed, traveled distance, routes)
View saved routes and detailed statistics
Saving tracks in GPX, JSON, CSV and other formats
Cloud backups
Data sync between devices
Using SailTimer Wind Instrument for wind speed calculation
Detailed weather forecast
The speedometer feature allows users to easily monitor the speed of their vessel. The app enables users to track their speed in knots, miles per hour, or kilometers per hour, and also display the current speed, average speed, and maximum speed.
The speedometer feature can also be used to track the speed of waves, allowing users to keep their vessel safe and secure.
The app is updated regularly and has a good rating of about 4.2 on the Play Store. The developers are fixing flaws and responding to user requests.
Pros:
flexible GPS speedometer for boating
detailed information about maritime navigation, including tides, currents, and wind direction
Cons:
it is only available for Android devices
Argo - Boating Navigation
Developer: Argo Navigation, LLC
Price: €23.99
App rating: 🐱🐱🐱🐱🐱 5 out of 5
Argo Navigation LLC's GPS app is a great resource for boaters, providing them with an easy-to-use and intuitive navigation system. It offers autorouting, manual routing, real-time reports on hazards, map issues, local advice and more.
It allows you to improve safety and well plan your route using detailed terrain maps. First of all, this app will be useful for North American users.
App features:
Keeping a log with the ability to save the route of the trip.
Getting data about the current weather conditions (tides, current tide, sea weather forecast for the coming week)
Use of marine, satellite-derived offshore charts of North America
Current boat speed, engine status
Tracking current boat location
Sightseeing within a 100 km radius and useful points: refueling docks, harbors, piers, anchorages
With its affordability and route planning capabilities, Argo Navigation GPS app is sure to be a hit with boat enthusiasts over the summer months. It is available for iPhone and iPad as well as Android.
Pros:
detailed satellite maps
local waterways for offline routing
BoatSpeed
Developer: Hans Joachim Herbertz
Price: €2.19 - €7.99
App rating: 🐱🐱🐱🐱 4.2 out of 5
Boatspeed is a mobile application developed by Hans Joachim Herbertz that provides users with multiple functions for sailing such as displaying speed and course navigation with an open sea map tracking anchor alert and regatta countdown.
There are no unnecessary animations and factors that burden the phone when using it. The main screen immediately shows the direction and speed (in knots by default). Sometimes the movement can be displayed even if the device is stationary - then you may need to calibrate.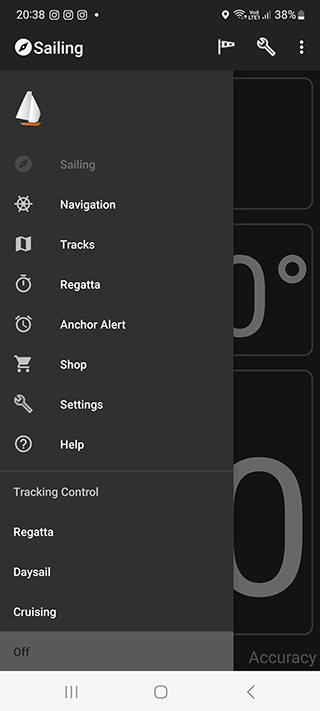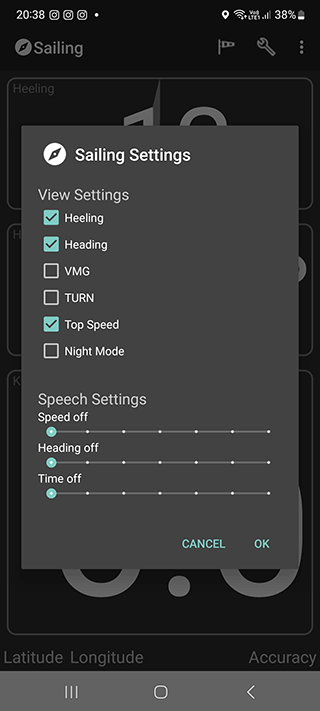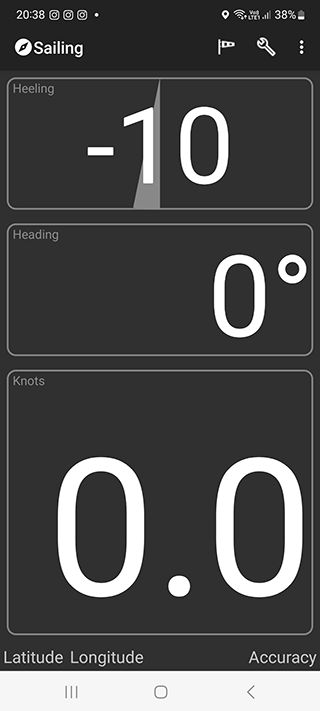 Under "navigation" all the same data is displayed on top of the map. The maps themselves can be selected in the settings. Functions such as route saving and navigation, anchor alert and compass are available. In the settings section, you can change the measurement system, maps, position format and full-screen mode of the app itself.
Without geolocation enabled, the app simply won't launch, so even if you want to download and just check it works - you'll have to give all the necessary permissions.
There are no paid features, which is a definite plus for many users.
Reviews from users have mentioned issues such as being unable to make the app work, inaccurate boat speed, intrusive ads, and battery draining. In response to these reviews, Hans Joachim Herbertz offers solutions and explanations.
Cons:
start time being unreadable in landscape mode
inability to stop the anchor alarm
intrusive ads
Pros:
smoothing option for the speed,
adding notes to tracks
using magnetic instead of true heading
C-MAP - Marine Charts
Developer: Navico Norway AS
Price: €1.29 - €104.99
App rating: 🐱🐱🐱🐱 4.4 out of 5
C-MAP is a navigation and speedometer app for your boat. It allows to display charts, plan routes, display the weather forecast for today and other days of the week. The app will be useful for fishermen, sailing enthusiasts.
App features:
Displaying nautical off-line charts for the area
Use phone's GPS sensor to manage your routes and display your current location
Track record with subsequent import and export to navigation apps
Measurement of distance and depth of the lake, sea, ocean within a radius of 100 km
Information about the nearest piers, marinas and anchorages.
The premium version C-MAP has no limitations, you can download any number of offline maps for 70 regions and use additional services to receive summaries of weather conditions. An annual subscription costs $14.99.
A trial period of the full version of the app is available.
Ulysse Speedometer
Developer: binarytoys
Price: Free
App rating: 🐱🐱🐱🐱 4.2 out of 5
Ulysse GPS Speedometer is a comprehensive speedometer app designed for a variety of vehicles that offers a range of features such as overlays, Trip Computer, track recorder and more. It has a different boat speedometer design, stylized as speedometers on cars.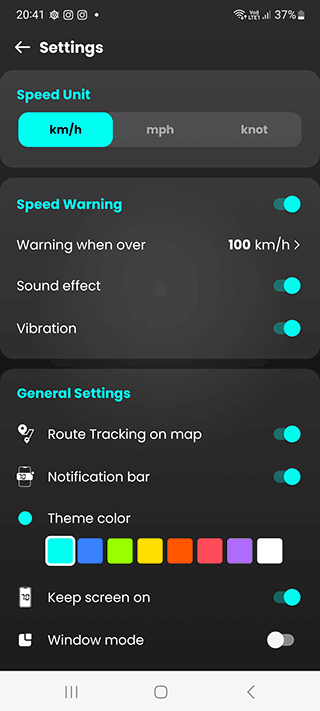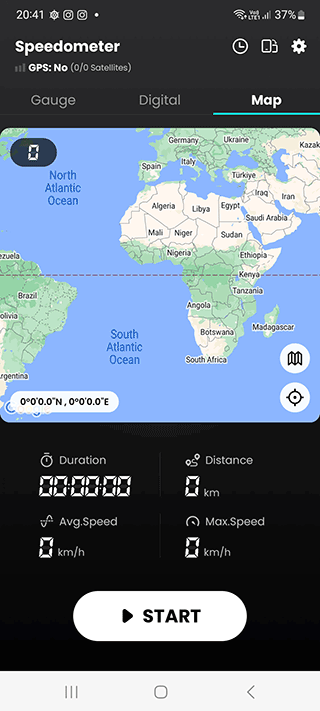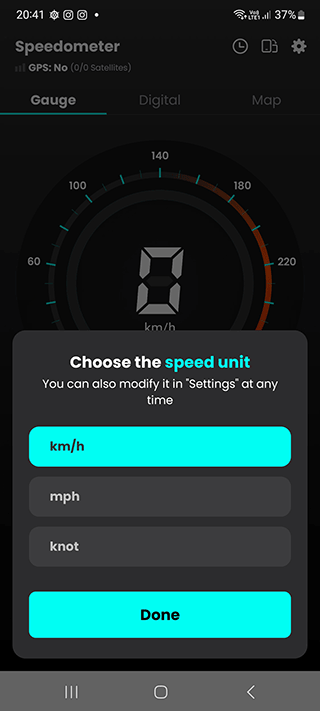 When you first run the app will give a warning about the impact of constant display of information on AMOLED and OLED screens. To prevent the issue, it's worth following the instructions and going into the settings. This is especially true if you intend to use the app as a car speedometer and will not dim the screen.
In the center of the main screen you can see the boat speedometer with an accuracy of 5 km / h. There you can also turn on the route recording. It also has compass, GPS accuracy, and average speed. What is very convenient is the date and battery percentage on the main screen.
The menu opens by tapping on the center of the screen. There you can turn on night mode, turn on profiles, adjust units of measurement, open the settings menu, and more.
Through the settings menu you can view counters, screenshots taken, and very importantly, feedback from the developers.
Advertising in the boat navigation system is present in the form of a small, permanent banner on the main screen.
Pros:
Cons:
slow tracking speed
unexpected minimizing when using back arrow
Despite these issues many users still recommend Ulysse Speedometer as a reliable speed recorder but suggest that it needs improvement in order to make it more user friendly.
Speedbot
Developer: Iteration Mobile & Vialsoft Apps
Price: €4.99
App rating: 🐱🐱🐱🐱 4.4 out of 5
Speedbot has the most elaborate interface of all the provided apps. It is suitable for those users who are bothered by low-quality pictures or too bright arrows on the boat speedometer.
On the main screen is the speedometer, designed like a car speedometer. In the center is the location on the map, the level of communication and phone charge. The interface of this app is ideal for installing on a built-in car navigator.
On the left side are data on the start of the route, the duration of the trip, the maximum and average speed. Clicking on the special icon just below the speedometer will open the map.
To use OBD, you will need to connect your device to special sensors.
Advertising in this app is in the form of a small banner at the bottom, which does not interfere with or overlap any content. Premium subscription allows you to get rid of ads completely.
Sail Expert
Developer: Poterion
Price: €1.19 - €59.99
App rating: 🐱🐱🐱🐱 4.1 out of 5
One of the best sailing apps available on Android. The design is styled like old maps, looks very nice and has a huge functionality.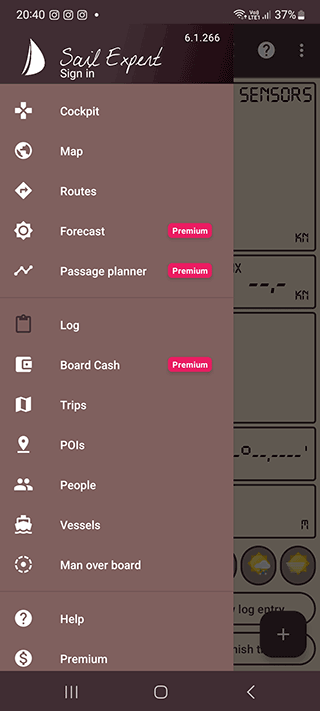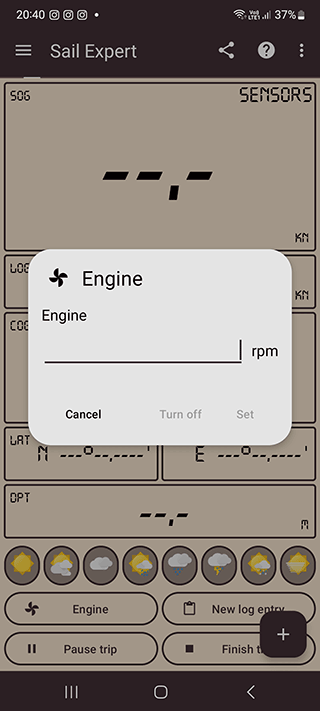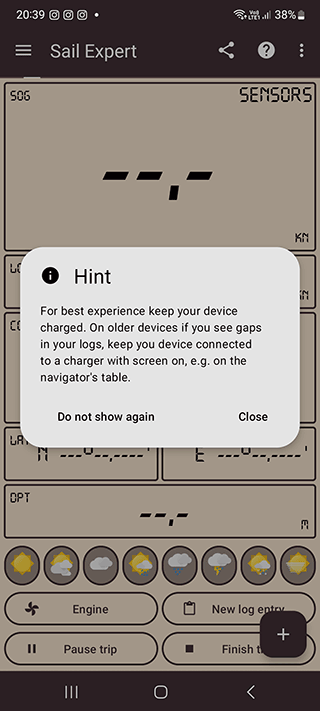 The first time you start it, you will get a detailed instruction on how to use all the functions, so here we will consider only the most basic.
On the main speedometer screen you can view the speed of the boat, the distance traveled and the direction of travel. There is also data from the phone's tilt sensor. You can set up an anchor warning if you want, and you can also view a map with your location, also adapted for boats.
There are no ads in the app, but some features are only available through premium. You can evaluate them immediately through the demo, which is a huge plus for the app. Premium features include sea weather viewing and a route planner function.
GPS Speedometer and Odometer
Developer: COOL NIKS
Price: Free
App rating: 🐱🐱🐱🐱🐱 4.7 out of 5
This is a trial version, but it works fine. This app is the most minimalistic and undemanding in the list. There is no complicated design and unnecessary functions, it does only the work of the speedometer. Suitable both for measuring the speed of maritime transport, and for cars.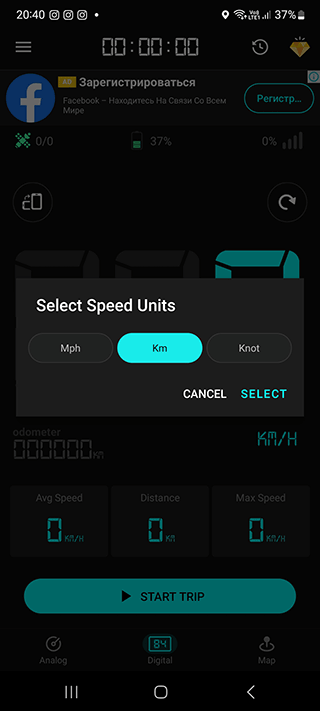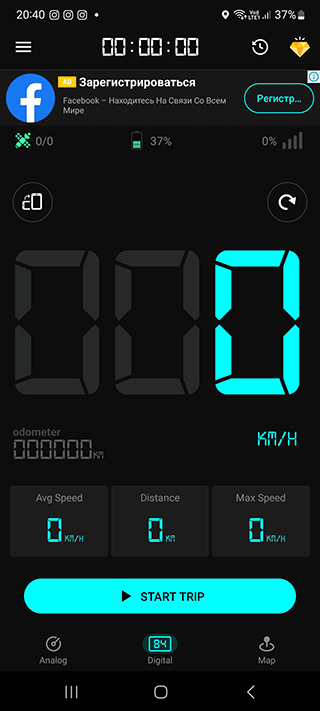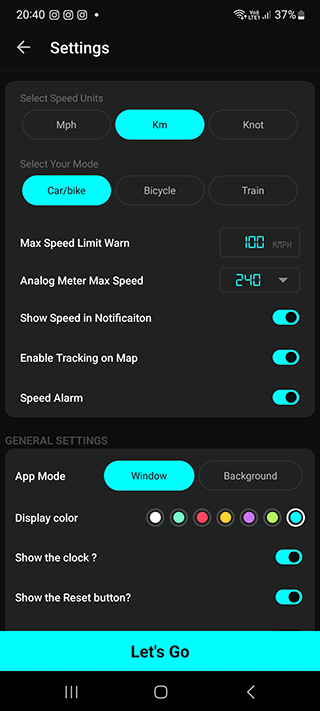 The main speedometer screen shows the current speed, the distance traveled by the boat, the average and the maximum speed of the trip. Also there is the distance traveled, the maximum speed. And it's worth noting that the meter of this app is much more accurate than the previous ones.
Advertisement is present in the form of a banner which sometimes pops up before launching and can interfere if you need urgent access to the speedometer.
Other boat apps
Note also the following boat apps:
Which boat app is the best?
These apps offer features such as route planning and management, weather forecasts, chart-plotters, depth and speed data, battery and engine status monitoring, high resolution maps (NOAA RNC), and more.
Boatspeed is a useful navigation app for dinghy racing that provides users with multiple functions for sailing while preserving their data privacy and security.
C-MAP is a navigation app with features such as displaying nautical charts;
Ulysse Speedometer has a different design stylized as speedometers on cars with additional features such as speed warning and night mode; it is free but offers an in-app purchase for additional features.
Speedbot, Sail Expert, and Mariner GPS Dashboard are three apps available for Android users to use as boat speedometers.
GPS Speedometer & Odometer's minimalistic design includes features such as current speed display, distance traveled by boat display, average & maximum speed display & tilt sensor data display along with anchor warning feature & sea weather viewing & route planner function (available through premium subscription).

Ilia is a professional writer. He has expert knowledge in GPS and cartography with 15 years of experience. Additionally, Ilia has extensive experience in data recovery on PC and mobile. He started his career as a journalist by reviewing PC and mobile apps. His current responsibilities are to keep track of users' questions on MGT and answer them.