Published on

Updated on 
Best apps to track visited countries and cities on map
Authors
Travelers often look for an app that helps them make a list of countries they have visited. If the list is really impressive, it is very difficult to list these countries. It is impossible to list them from memory as well.
There are travel tracking apps for both Android and iOS. Using them you can:
make a list of places you've visited,
compose a wishlist of countries to visit or where you really want to go,
to track visited countries on mobile phone.
However, it can be not only a list of countries, but also of states or individual regions.
Most visited countries apps are free to use. On the other hand, some apps offer a number of interesting features in the pro version.
So, let's take a look at the mobile apps and focus on the most interesting features that will be useful to avid travelers.
Table of Contents
World Traveller
Developer: enoler
Price: Free / 1,29 € - 1,99 € (pro)
App rating: 🐱🐱🐱🐱🐱 4.6 out of 5
An app for travelers that allows you to keep track of places visited and learn interesting facts about a particular country. Statistics of all trips made by the user are kept. The map app is available for download exclusively for Android.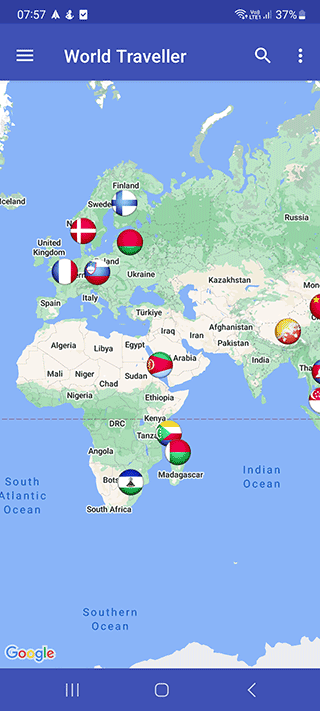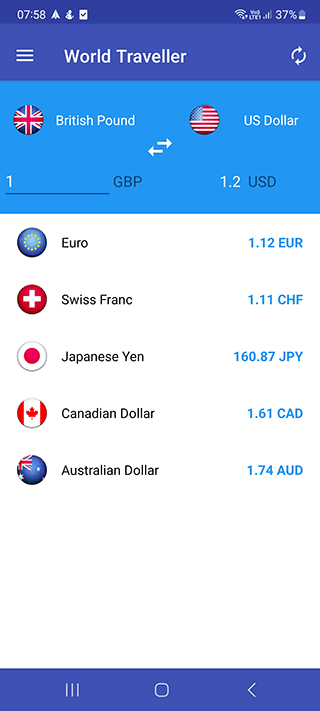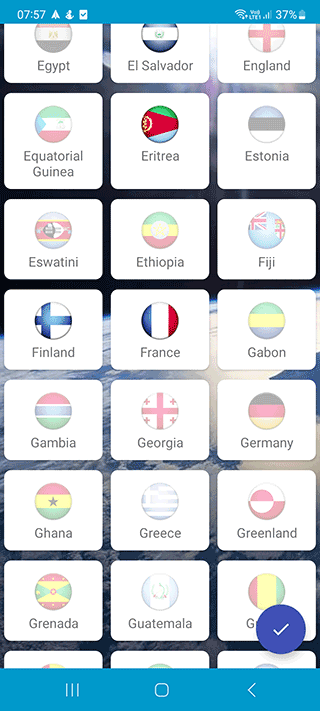 World Traveller features:
Information about the type of visa required to visit a particular country.
Travel statistics.
Information on each country: population, currency, passport comparison, etc. The entire database is available offline.
Marking of cities in the planned itinerary and those locations that are planned to visit in the future.
Account integration with social networks to access information from any device.
Creating user profiles with the ability to store statistics in it
Searching and viewing other profiles (statistics of visited countries), adding friends
To show countries and places you've been:
Select your country of primary residence.
A list of all countries will open. The app will ask you to mark the regions you visited.
On the world map, flags will indicate the countries where the traveler has already been. Additionally, a more detailed map with cities is available.
To add a country or city tap on its name.
There are several options for marking - for example, favorite or "would like to visit".
Advantages:
Advanced functionality - visa information, currency converter
Country-specific population data
Intuitive interface for tracking countries
Registered user has a profile
You can search another users, see their statistics and maps, and add them as a friends
Countries Been
Developer: Daniel Knoblauch
Price: Free / 2,15 € (pro)
App rating: 🐱🐱🐱🐱🐱 4.8 out of 5
The app creates map of cities you visited. It also allows you to generate a personalized map of the world, which will display all the cities and countries visited by the user. You can view the created map and mark visited places, make beautiful lists and infographics.
The main features of Countries Been app:
Personal map for travel.
Collecting the cities, areas and countries you've already visited.
Tracking your progress. You can always share the list of places you've visited with your friends.
Quick access to information about a particular place. It is extremely useful when planning your next trip.
Ability to share your travel map with friends quickly.
How to create a map of visited countries using Countries Been app:
Step 1. After the first launch, the app will ask the user to log in. A quick login via Google, Facebook or email is available.
Step 2. You can log in as a guest to get acquainted with the app features. If you sign in as a guest, the app will warn you that all the data you enter may not be saved.

Step 3. On the globe, select the country you have visited or plan to visit in the future.

Step 4. In addition, you will need to download data about a particular area from the network to your phone.

Step 5. Check one of the places - you live in, visited or plan to visit.

Step 6. Depending on the status, the country or city will be colored green, purple or yellow.

Step 7. The information will also be added to the special list.
Pros:
Nice design of the map of places you've visited.
You can select entire countries, areas and regions
Cons:
The free version of Countries Been has ads
Scratch - Where I've been
Developer: Zero Dawn Ltd
Price: Free / 3,49 € - 8,99 € (pro)
App rating: 🐱🐱🐱🐱 4.0 out of 5
The Scratch app allows you not only to make lists of places you've visited, but also to plan trips and make personalized maps. You can easily track your travels on the customizable world map.
Scratch core features:
You can mark cities, countries and states on the map. The result will be formed as a beautiful map that you can share online with friends.
Curated lists - if you have no idea where to go next time, explore the lists of other Scratch users. Photos, text notes, and maps with interesting locations are available.
Memories - you can add photos and videos associated with the trip to the map. All the information is easy to arrange as a timeline - a sequence of events. It is especially convenient if you have visited several interesting places in the country.
Maps can be easily adapted to your taste - if you do not like the colors, the design, it is easy to change it.
Thus, Scratch is a user-friendly app for tidying up travel memories and for planning new trips.
Pros:
Adding photos and videos
Nice design
Great functionality
Visited Cities
Developer: Bolsos
Price: Free / 1,19 € - 3,69 € (pro)
App rating: 🐱🐱🐱🐱 4.1 out of 5
Another app for creating a database of visited cities and countries. You can mark places you've been, add points to the interactive global map, view statistics by continents or states, share your achievements with friends through social networks, create a wish list and plan future trips.
Best features of the Visited Cities app:
Database of cities and countries: you can add visited places manually or use suggested names.

Detailed statistics: it contains not only the names of states, cities, but also the geographical location. You can see the location through Google Maps as a marker. Statistics are available as text information and graphs, which can be sent to other users for review.

Creating a wish list: add countries you have not yet visited to your wish list, then these data can be transferred to the list of visited places.

Quiz: take part in a quiz. It is available through the Visited Cities app. Thanks to it, you can improve your geographical knowledge, find out about new places you might be interested to visit in the future.
Pros:
Small and unpopular towns are available
You can add photos of visited places to the database
Cons:
Country and city search does not always work
Map scaling works incorrectly
FindPenguins
Developer: FindPenguins
Price: Free / 4,99 € - 29,99 € (pro)
App rating: 4,6 out of 5
The app allows to create and show a map of travel and track every step. You can upload photos of places you have taken in random order. The app will automatically save them in a certain place by GPS coordinates.
Features of the FindPenguins app:
Automatic trip tracker. Phone will record all movements after the app is launched.
No constant network connection is required. Even if the Internet connection goes down, the data is saved on your device.
Creating a photo book. The app will add the photos taken to the book and provide them with descriptions.
If necessary, the user can add his/her own impressions of visiting a place.
Fully automatic creation of a travel map.
Convenient communication with the blog. All data in the app can be uploaded to your travel blog.
Interaction with friends. The app supports the function of subscribing to other users. You can always share impressions, beautiful photos with your friends.
How to create the map of visited places:
After the first launch, the app will prompt you to familiarize yourself with the features or create an account.
From the main screen, you can log into an existing account (if the user has registered before).
For convenience, you can quickly create an account through Facebook or Google authorization.
At the first launch, the user can see all the features of the app through a presentation.
To start a journey, go to the "Track" section.
After getting acquainted with the basic functions of the section, the user needs to create a new trip. You select the type of adventure - trip, vacation or short trip. Additional categories are available, you need to click on the "Advanced" button.
All data about the trip is there, including the start and end date. Via the settings you can also enable or disable the trip tracker.
Privacy settings are enabled - only you or all selected users of the app can see the trip.
Advantages:
Trip information is saved for offline usage
Ability to create colorful photo albums
Disadvantages:
Advanced interface
Some features are available in the paid version of FindPenguins
Mapstr
Developer: Mapstr
Price: Free / 1,79 € (pro)
App rating: 🐱🐱🐱🐱 3.7 out of 5
This app helps to build your own map of the world based on the places visited by the user.
The main features of the Mapstr app:
Saving the names of visited countries and cities. You can also save the names of institutions, organizations in the form of a list, addresses, coordinates and points on the map.

Planning routes for upcoming trips. You can save bookmarks for the countries and places to visit and choose the best route.

Offline access: you do not need an Internet connection to work with the app. You can get a list of visited countries or planned places while you are offline.

Personal map of visited countries: create a custom map with routes, which will be available only to you or other users who have a link.
Pros:
access to recommendations from friends,
easy planning and tracking of upcoming trips,
offline access to the app
the ability to create secret places that are not on the world map.
What is the best app to track visited countries?
Scratch is the best app to track places you've traveled. You can do it using special travel tracking features. It is extremely easy to keep chronology, then count visited countries and collect lovely places. The app will be useful for users who have traveled around the world and for those who are only planning to go on a trip.
The Countries Been app is the best social app for tracking the countries you've visited. It will be useful for beginners and experienced travelers if you want to use the step-by-step map setup. In the app, you can track your progress and share your achievements with your friends.
FindPenguins- the best offline guide to places visited. Works without Internet, offline. In addition to maps, you can add notes, notes, publish entries in your own blog.
World Traveller - the most informative app for travelers to keep track of places, states and cities. Information is available for each country: guides, currency converters, dictionaries, addresses. There are also statistics on the places where the traveler has already been.
The Mapstr app will appeal to users who keep lists of visited countries, states, cities, collect interesting places, plan trips. In short, it is a very functional and useful app for saving addresses on the map. In addition, Mapstr includes a powerful planner.

Ilia is a professional writer. He has expert knowledge in GPS and cartography with 15 years of experience. Additionally, Ilia has extensive experience in data recovery on PC and mobile. He started his career as a journalist by reviewing PC and mobile apps. His current responsibilities are to keep track of users' questions on MGT and answer them.