Published on

Updated on 
Best services to find real time satellite images of your house
Authors
There are many places on planet Earth that you would like to see in as much detail as possible. This includes landmarks, infrastructure, and the place where you live. Satellite maps of high quality will give you all the information you need in real time and take you on a virtual trip to the location you specified.
In this review we have collected the best services for viewing real-time satellite maps and images of your house in real time. All services / apps work for free and provide satellite online maps without registration.
Table of Contents
SkyFi provides access to highly detailed satellite imagery all over the world. You can get a bird's-eye view of your home, capture large areas with streets, objects, and all surrounding infrastructure.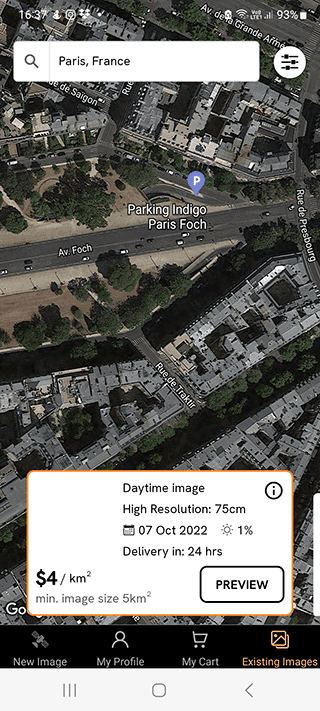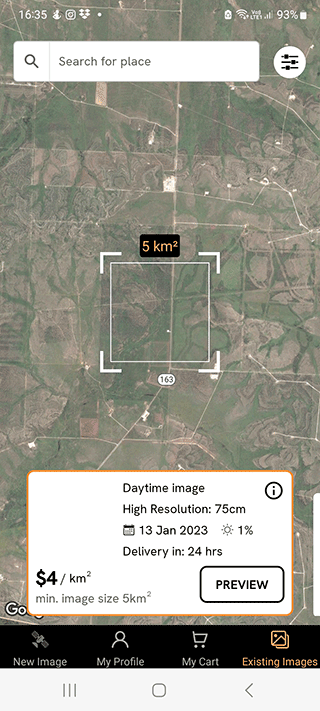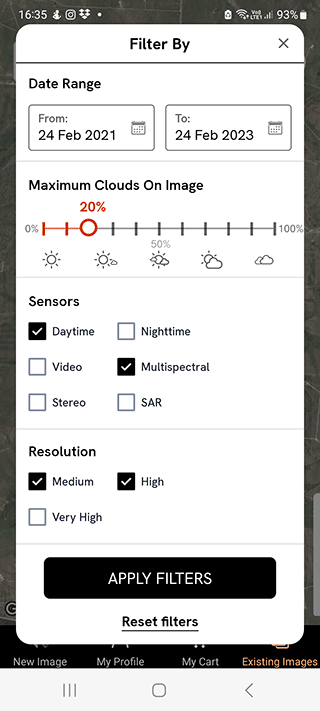 Service features:
Downloading existing images in a specified format, area, and custom resolution;
Obtaining highly detailed images on demand via satellite: on a specified day, with specified cloudiness and number of retries;
Access to hard-to-reach destinations and unpopular places not presented on Google Maps / Earth;
Access the service via web platform, Android or iOS mobile app.
The list of all the features is available on the official website.
Overall, the service will be of interest to small businesses and individuals who need satellite imagery for research. Through access to different sources, SkyFi provides access to technology that was previously only available to government organizations and the military.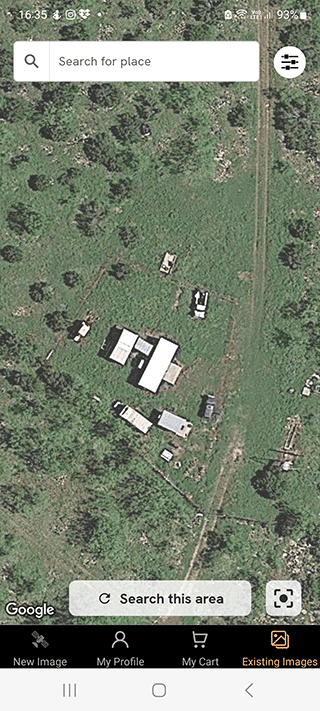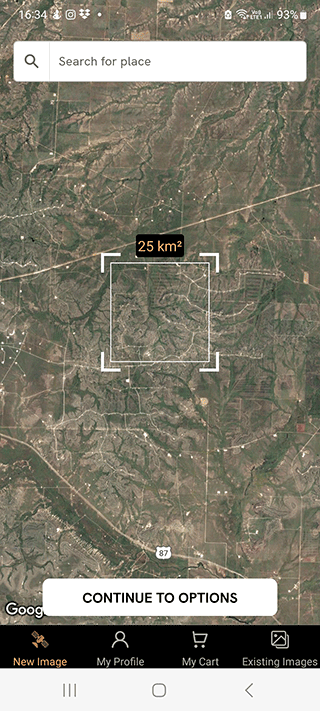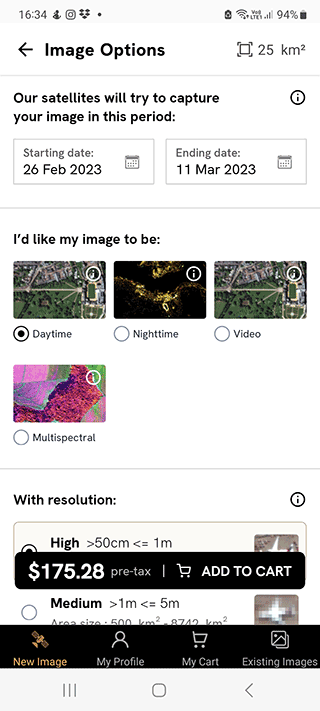 Pros:
HQ resolution images (maximum 50 cm) - much higher than Google Earth and similar apps offer
Easy-to-use app interface with coordinate search
Affordable prices (starting at $20 for single existing image)
Large list of data sources: 80 satellites and 25 partner companies
Download SkyFi app: Android | iOS
The service is very popular with travelers around the world. It is one of the oldest web mapping apps. It can be used online via a browser.
To view your home on the Google Earth web app, do the following:
Step 1. Open the search bar in Google Earth (located on the left sidebar, magnifying glass icon)
Step 2. Enter the address of your house in as much detail as possible
You can either enter the coordinates of the location or the name in the search field.
Step 3. Among the results found, select the one that is right for you
Step 4. Move Pegman icon as close as possible to the object (your or someone else's house)
Step 5. There are animations of the globe at your disposal that are a pleasure to look at.
Step 6. It is easy to switch to "panorama" mode by dragging and dropping the human icon on the globe image. You can track your location and watch your home from the satellite.
Step 7. Under "Map Style," you can choose from Clean, Exploration, Everything, or Custom mode.
Step 8. There you can also adjust the cloud animation, grid and 3D representation of buildings.
Step 9. In "ruler" mode you can determine the distance between objects.
Step 10. After that you can switch to 2d display mode
Step 11. You can also return to the satellite view by pressing the Exit button.
Maps and satellite images are updated regularly. Panoramas are updated less frequently, because of the complicated technical execution of such pictures. Each satellite photo has the date of capture.
Feel free to use Google Earth as a map. Although it is inferior to Google Maps, where you can continue the route of any complexity.
Google Earth has fun modes such as "I'll get lucky!" which moves you to a random point in the world with a detailed description. You might enjoy spending time exploring maps.
Also in the app there is a compass, zoom and search by coordinates.
Are there panoramic images?
Yes, if you choose a satellite view with the ability to "navigate" through the panorama.
Can you find your city, street, or house
Yes, you can find an address or coordinates.
View modes
Explorer mode with boundaries, locations, and objects. 'All mode' with all boundaries, roads, and routes. "My Map" mode with display of customizable objects. Maps can be displayed both in 3D and normal format when zooming in.
Map Update Frequency
Maps are updated frequently, except for panoramas in some places.
NASA Worldview provides a service for viewing global satellite imagery in high quality. More than 1,000 layers are available, offering a bird's-eye view of the Earth.
Updates: maps are updated regularly. The most popular satellite images are updated several times a day and even for 1 - 2 hours. Thus, you could argue that NASA Worldview provides real-time data.
What layers are available? With NASA Worldview, you can get up-to-date, useful information:
Forest fires, floods, and other natural disasters
Images from geostationary meteorological satellites
Monitor weather, determine cloud cover, pressure and other meteorological indicators, and make estimates of synoptic conditions in the thick troposphere.
It is noteworthy that NASA Worldview can be operated both from a desktop PC and from mobile devices - smartphones and tablets.
EOSDIS Worldview service and OpenLayers library are used to display the images. Imagery detail is quite high, 1 pixel = 300 meters. At the same time this does not allow viewing of small objects on the map - houses, roads, infrastructure in general.
So, this service is mostly useful for viewing the weather, getting information about meteorological indicators.
Pros:
Free access to satellite imagery
Large number of satellite layers and maps
Cons:
Low detail, not enough to view infrastructure of the cities
The most common service with free online maps. Google Maps app includes not only view from satellite, but many other features, such as
creating a custom route;
searching for public places;
car navigation;
downloading offline maps.
Google Maps service is used in trackers, pedometers, and most GPS navigators. In addition, Google Street View is the most updated service and has no competitors around the world.
Google Maps app designed not only for viewing satellite images. It does not have many of the features available in Google Earth. For the most part, Google Maps is a handy navigator. It will help you assess the traffic situation, check bus schedules, find a pharmacy, a cafe or a hotel. Besides, Google Maps will not allow you to look at 3D projection of the Earth from space.
Pros:
Large variety of satellite maps;
High accuracy of GPS positioning;
Convenient viewing of maps on almost any mobile devices;
Possibility to turn on the hybrid map display mode.
Cons:
Limited functionality for street view
You can't see real-time maps
Are there panoramic images available
Yes, including the ability to view photos from several years ago.
How do you see your house on the map in real time?
That's what Live View is for. The best way to open the map is through your Android or iOS mobile device. How to use Live View to view your home:
Open the Google Maps app on your phone
In the search, enter the name of the place where your house is located, street house, zip code
To search, tap Directions button
Select the appropriate travel mode (Walking)
The Live View button appears at the bottom, tap it
After the above steps, you will see your house in real time, if the option is available for that location
View modes available
Maps, terrain, traffic, transportation, biking, satellite.
Frequency of map updates
Maps are updated frequently, but you should keep in mind that not all places are regularly discovered by Google cars to update panoramic images.
This service provides real time imagery from Landsat 7 and Landsat 8 satellites. The images are available free of charge and many options and features are available to the general public.
For example, live stream video can be streamed, replays can be made and the results saved. In addition, you can view the images in true color or switch to a special view mode for vegetation analysis. This way you can see the chlorophyll fluorescence in the specified areas of the earth.
FarEarth Global Observer service is used to display the satellite images and layers, and all data are promptly delivered to the site.
Pros:
Access to (almost) real-time satellite imagery
Cons:
This app combines a satellite imagery viewer and a navigation tools. Thanks to this, you will be able to access highly detailed maps in which you can
See the main tourist attractions
View points of interest on a satellite map
See your own or someone else's house not in real time, but close to it
Access panoramic street-level imagery
View live satellite information
Let's highlight the most useful features in more detail.
Live Earth Map:
Live Earth Map feature is useful because the maps are rendered in high detail and you can virtually walk around a particular location. A 3d panoramic view is available where you can navigate with keys on your mobile device or PC. Live Earth Map also provides information about real-time live traffic, so if you use a built-in navigation device, it will be useful.
Looking at locations near your home in real time (360 panoramas):
You can find your home address and then the panorama will be available. So you can use the live location function to virtually view the area. Not all information is always available, but you will most likely be able to watch traffic in your area and view nearby objects.
My Location.
This function will be useful if you want to know the latitude and longitude of the place where you are at the moment or the specified point on the map. The app gives you exact coordinates that you can send to other users via social networks.
Yandex Maps is as popular as Google Maps in Russian-speaking countries. The service is optimized much better, and the functionality is almost the same.
The main feature of Yandex Maps is integration with other services: taxi, delivery, etc. This is a great advantage for the user, who does not need to switch between different maps.
Like Google Maps, Yandex is good for navigating in the city. Nonetheless, he maps are not adapted to a real-time satellite view. However, thanks to the developers, you can find any place at a given address, and requests "where to eat", "cafe", "where to relax" will help find the appropriate institution.
Pros:
Good choice of infrastructure in Russian-speaking countries. You can find various stores, cafes, entertainment;
In large cities the public transport traffic is displayed in real time;
Displaying traffic jams and congestion on the roads. In cities where Yandex Go works, this display is especially useful;
Ability to view reviews for public places;
Ability to book or reserve a seat in a restaurant;
Ability to create bookmarks and your own routes;
Weather forecast for each section of the map.
Cons:
Yandex maps are not suitable for long-distance travel in Europe or USA;
The service will not work abroad;
Maps don't work well in small communities and towns.
Are there panoramic images?
Yes, with a convenient display on the map.
Can you find your city, street, house
Yes, you can type an address and get exact coordinates.
View modes
Photo, panorama, satellite, hybrid, public transport, maps.
Frequency of map updates
Maps are updated often, except for panoramas in some places.
Unlike the previous ones, this service is fully focused on viewing photos and maps from satellites. There are no superfluous functions here, the service is not designed to build routes and search for establishments.
Basic functions:
Zoom-earth lets you choose the viewing mode: live satellite, daily satellite, and base map.
Rain radar, wind radar, forest fire animation, day and night line display, and boundary lines.
Via Settings, you can choose the time zone mode and format.
Measurement of distance and area. You can select the date for which the satellite images are viewed, and then play an accelerated animation of the selected day.
Storm tracking. Zoom-earth shows the name, forecasts, and trajectory in real time.
Can you find your city, street, or house?
Although Zoom Earth is more commonly used for weather forecasting, it is another relatively easy way to view real time satellite maps and / or detailed images of your house or, for example, the houses in your neighborhood on your street.
Because satellite imagery is updated fairly frequently, there is a high probability that your city or town has been mapped relatively recently. You can choose from HD satellite, live mode, and standard (aerial view).
You can find a place by geolocation or by entering coordinates.
View modes
Three kinds of satellites: Live, Daily and Basic (provided by NASA)
Map update frequency
Satellite images and photos are updated daily.
Simple in design and feature set, the app does not contain anything superfluous. You couldn't expect such a variety of places, and additional features as in Google and Yandex Maps.
It has three viewing modes: maps, a dark theme, and a hybrid of maps on a satellite image. You can tap on a location, zoom in and out, and enter coordinates or an address in the search.
When entering an address, keep in mind that the service is not focused on all countries of the world. Probably, many locations will not be in the list, especially small streets, school buildings, etc. Satellite images are clear and easy to navigate.
Thanks to the "Routes" section you can draw a route by car, on foot or by public transport. Nonetheless, public transport is not available in many cities, so it does not make sense to use the function if you do not live in a major city.
Are there panoramic photos?
No.
Can you find your city, street and house
Yes, but in CIS space the address probably won't work, you'll need to enter coordinates.
View modes
Road, Dark Road, Satellite Hybrid.
Frequency of map updates
Maps are updated rarely.
tl dr
Top 6 ways to find free satellite images of your house on the map:
SkyFi: satellite imagery all over the world; HQ resolution images; large list of satellite data sources.
Google Earth - the most popular and affordable way via PC app.
Sentinel Hub - service collects Sentinel data and can be used to view objects on the map.
Bing Maps is another free service from Microsoft. By entering coordinates you can find your house on the map.
EarthExplorer is a real time high resolution satellite map and online service with a collection of maps around the world.
NOAA - data is updated every 15 minutes, so you can find the most actual pictures and real time satellite images of your home.
FAQ
How often does the satellite images of my house update on Google Earth?
There is no exact information on this, as the frequency of satellite image updates depends on many factors, including the popularity of the location. The more in-demand a location is, the more often there are updates. Officially, map updates occur on average once every 1-2 months.
Can I request a satellite map update?
Such an opportunity is available exclusively in the Google Earth program. Using the Send feedback... button, you can request a satellite map update.
However, the minimum probability that it will help to update the location of the exact place where your house is located nearby. The likelihood of updating a section of the map depends on the demand for a particular location.
Was the information helpful?
Karma:

Ilia is a professional writer. He has expert knowledge in GPS and cartography with 15 years of experience. Additionally, Ilia has extensive experience in data recovery on PC and mobile. He started his career as a journalist by reviewing PC and mobile apps. His current responsibilities are to keep track of users' questions on MGT and answer them.